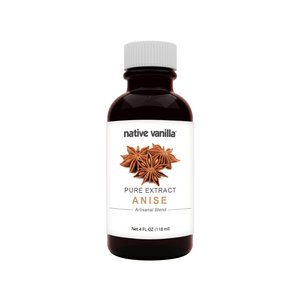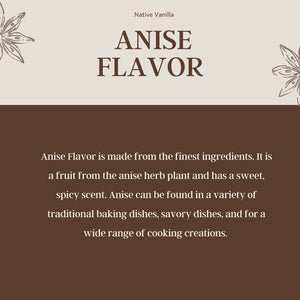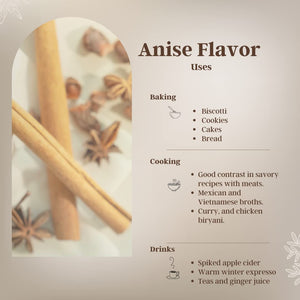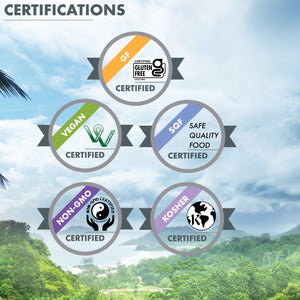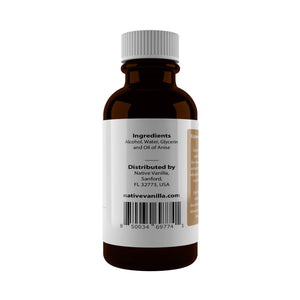 | | |
| --- | --- |
| Product: | Anise Extract |
| Flavor Notes: | strong, licorice-like flavor and aroma |
| Sizes: | 4oz, 1 Gallon |
| Ingredients: | Alcohol, Water, Glycerin, Oil of Anise |
| Certifications: | SQF, Kosher, Vegan, Non-GMO, Gluten Free |
| | |
| --- | --- |
| Uses: | |
| Sweet Ideas:  | Cakes, Pastries, Tarts, Cobblers, Macaroons, Rusks |
| Beverage Ideas: | Hot Cocoa, Cocktails, Egg Nog, Milk Shakes |
Anise Flavor is made from the finest ingredients including oil of anise. licorice and anise have a similar taste and aroma, but they have their own identities beyond that. Licorice is a root (from the licorice plant), and anise is a fruit (from the anise herb plant). Anise is not related to licorice at all. Anise has a very distinctive flavor. 
Anise also has a sweet, spicy scent, with a pronounced green note and it tastes very similar to another herb called fennel which has a less sweet flavor. Due to their similar flavor profile, fennel seeds and anise are common substitutes for one another in the kitchen to bring a black licorice flavor to dishes.
Anise flavor pairs well with seafood, meat, fruit, and chocolate. It also blends well with other spices and herbs like caraway, clove, mace, pink pepperberries, and tarragon. 
Anise flavor can be found in a variety of traditional baking dishes such as Segovian bread rings, olive oil and anise cakes (Torta de Aceite), soft Easter brioche and folar with eggs. Classic Italian cookies, Chebakia (Moroccan Sesame Cookies) and Peppernuts (Pfeffernusse Cookies) are all celebrated as wonderful tea time treats around the world. 
Of course, anise flavoring can also be found in savory dishes such as South African curry and rice bobotie, spicy chicken biryani and also a variety of Mexican and Vietnamese broths and soups. It also combines well with chamomile tea or apple and ginger juice as a refreshing afternoon drink. 
Excellent Quality
I use anise extract for my Italian cookies at Christmas time. I found this anise pure extract to be of excellent flavor and strength. Will buy again.