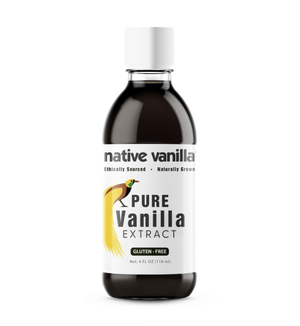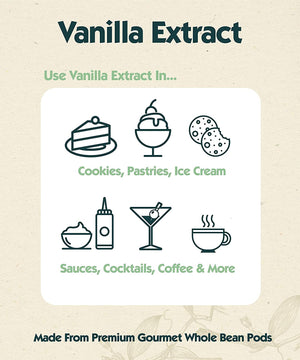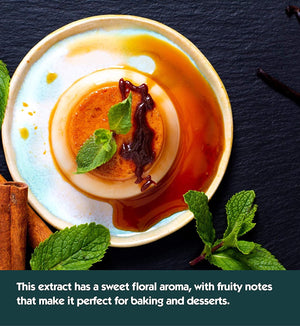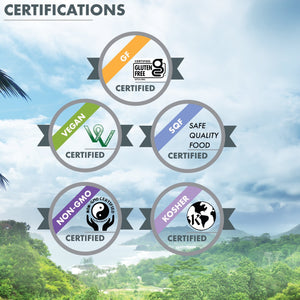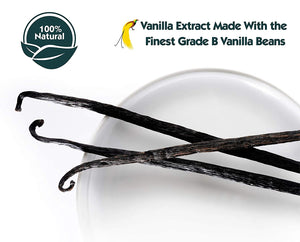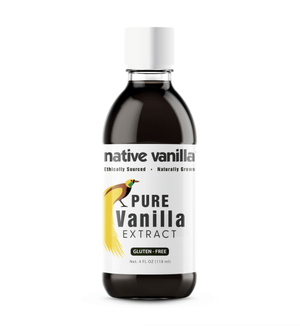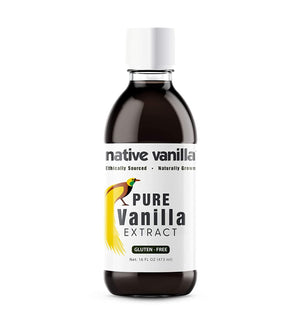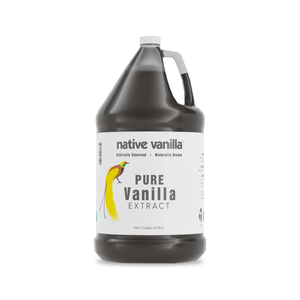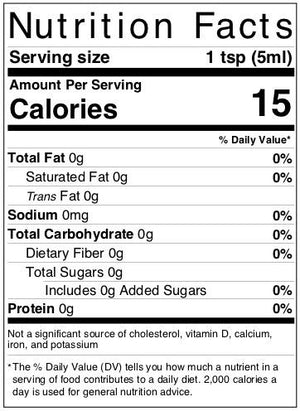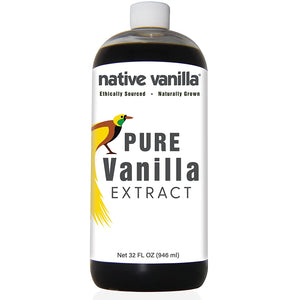 | | |
| --- | --- |
| Product: | Pure Vanilla Extract |
| Sizes: | 4oz, 8oz, 16oz, 32oz, 1 Gallon |
| Extraction Method: | Cold Extraction |
| Ingredients: | Vanilla Beans, Water, and Alcohol |
| Equivalency: | 1 tablespoon vanilla extract = 1 whole vanilla bean = 1 tablespoon vanilla bean paste = 1 tablespoon vanilla powder |
| Certifications: | SQF, Kosher, Vegan, Non-GMO, Gluten Free |
Flavor Profile
| | |
| --- | --- |
| Extract Taste: | Earthy, wooded aroma with hints of milk-chocolate and figs |
Uses:
| | |
| --- | --- |
| Sweet Ideas:  | Ice cream, cookies, cakes, cookies, chocolate, puddings, scones |
| Savory Ideas: | Sauces, salad dressings, marinades, meats, vegetables |
| Beverage Ideas: | Smoothies, hot chocolate, iced tea, sangria, manhattans |
Description
Pure vanilla extract is a concentrated liquid made from the natural vanilla bean. It is commonly used as a flavoring agent in a variety of sweet dishes, including cakes, cookies, ice cream, and custards.
The vanilla beans are carefully selected and cured to develop their characteristic aroma and flavor. Then, they are steeped in a mixture of alcohol and water to extract the rich, complex flavor compounds. This process can take several months to complete, allowing the extract to develop a deep, nuanced flavor.
Pure vanilla extract is prized for its intense, natural flavor, which is characterized by notes of caramel, cream, and floral undertones. It is made from real vanilla beans, no additives, colorants, fake flavors and contains zero sugars.
It is an essential ingredient in many classic desserts and baked goods, adding a rich, decadent flavor that is difficult to replicate with other ingredients.
Favorite Extract!
This has become a new staple in my baking business. I love that it smells (and tastes) like a homemade extract. It is everything I am looking for in an extract.
Madagascar Vanilla Beans
Amazing beautiful Vanilla Beans that are so fragrant. I'm very please with them and would definitely buy them again.
Thank you so much Native Vanilla for bringing these beautiful Vanilla Beans so many can purchase them.
Had already skipped order
In receiving the forward that the order was being prepared, I went into my subscriptions and skipped the order. The order showed up anyway. Nonetheless, an excellent product.
Pure VANILLA Extract
I won't purchase my extracts, or beans from anyone else. Your customer care, shipping, and products are amazing. I'm very impressed! Thank You!