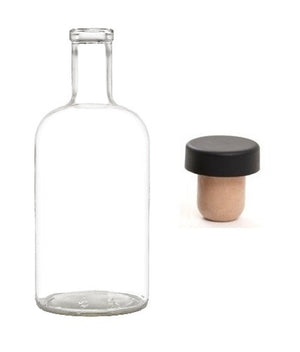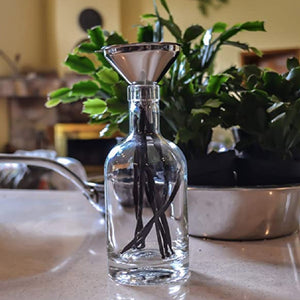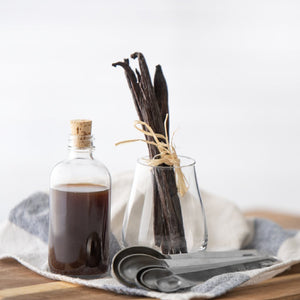 Use this beautiful 375 ml (12.68 FlOz) glass bottle to make your own extract, store flavorings, or even keep beans fresh! 
Exquisite 375 ml clear glass bottle
Bottle sealed with round wooden cork stopper.
Includes artistic custom label that you can write your name and bottled date on.
Glass Bottle with Cork
Loved the, quality of the bottles and corks. I cannot wait to try making vanilla extracts for the family.
Order still in progress
I have not received my order yet.
Good beans. Bad beans
I have now bottled 12, (or more?) bottles of Vanilla Extract, using varying Rums & Vodkas. The latest order of "Premium" and "not Premium" beans did vary greatly. The less than great vanilla beans were much much drier and shorter than an extract recommended type that was much longer and "fuller". I'm wondering what the end result will be?
Cork problem has been resolved
Customer service responded promptly and sent me replacement corks, which are made of a different material. I look forward to making my next batch of vanilla.
Nice bottle, but cork problems
The bottle is a nice size and quality, but the cork broke in half on two different bottles at different times. In one of the bottles, the bottom half of the cork became stuck in the neck of the bottle. Attempts to report this to customer service were futile. Aside from this, I am very happy with the quality of products from Native Vanilla.