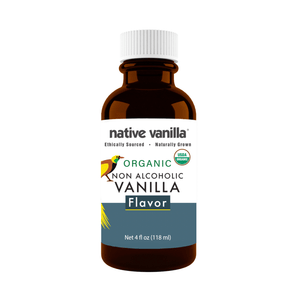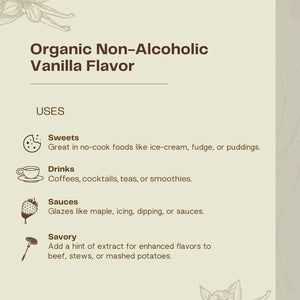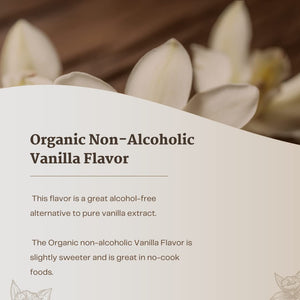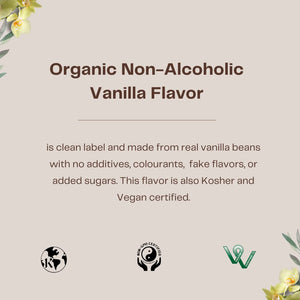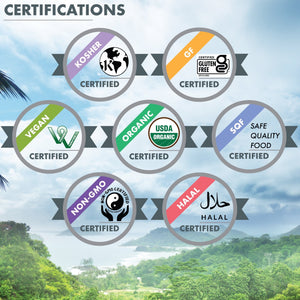 | | |
| --- | --- |
| Product: | Organic Non Alcoholic Vanilla Flavor |
| Sizes: | 4oz, 8oz, 16oz, 32oz, 1 Gallon |
| Extraction Method: | Cold Extraction |
| Ingredients: | Organic Vanilla Bean Extractives, Organic Glycerin, Purified Water, Organic Caramel Coloring and Natural Flavors |
| Equivalency: | 1 tablespoon vanilla extract = 1 whole vanilla bean = 1 tablespoon vanilla bean paste = 1 tablespoon vanilla powder |
| Certifications: | SQF, Organic, Kosher, Vegan, Non-GMO, Gluten Free, Halal |
Flavor Profile
| | |
| --- | --- |
| Extract Taste: | Classic Vanilla Flavor |
Uses:
| | |
| --- | --- |
| Sweet Ideas:  | Ice cream, cookies, cakes, cookies, chocolate, puddings, scones |
| Savory Ideas: | Sauces, salad dressings, marinades, meats, vegetables |
| Beverage Ideas: | Smoothies, hot chocolate, iced tea, sangria, manhattans |
Description
Organic Vanilla Flavor Non Alcoholic is made from the finest ingredients including Organic Vanilla Bean Extractives and is certified by SCS Global Services as organic. Flavorings are typically made with vodka, bourbon or some other type of alcohol, but they can be made without alcohol. The alcohol flavor may not be desirable if you are adding it to a recipe that doesn't cook it out. Fortunately, it's just as easy to make your extracts without alcohol. The alcohol is simply substituted with organic glycerin and purified water. Organic Vanilla Flavor Non Alcoholic carries a sweet fragrance and strong flavor with a taste like caramel.
If you look at almost any recipe for baking, you will find that it includes some vanilla flavoring. No matter what you are making you will find some great vanilla pairings. From ice cream to cake, vanilla pairs exceptionally well with many kinds of fruit, spices (cardamom, cinnamon) as well as nuts (hazelnuts, almonds, pecans). Consider apple galette with vanilla drizzle, vanilla, cardamom shortbread, roasted hazelnut vanilla ice cream or simple cinnamon-sugar pancakes. Vanilla is also amazing with chocolate, coffee, ricotta cream, ginger, caramel and toffee. Wow your family with vanilla cream pots with roasted almonds and dark chocolate or moist vanilla cake with layers of homemade caramel fudge frosting.
Organic Vanilla Flavor Non Alcoholic also adds a luscious flavor to many cocktails and it enhances the natural sweetness of meats in a marinade on the grill or as a sauce. Add it to your morning breakfast smoothie or home-brewed coffee. Smooth flavor and aroma without the sugar. Organic Vanilla Flavor Non Alcoholic is: -preservative free -dairy free -free of artificial coloring -nut free -GMO free -alcohol free Organic Vanilla Flavor Non Alcoholic is the perfect introduction to the Native Vanilla extract and flavoring range of products. You will be sure to find top quality ingredients for your baking and cooking creations.
Non alcoholic vanilla
Best vanilla I have ever tasted. Tastes great in smoothies and shakes. I definitely buy more!
A good amount for the price.
Perfect for baking, and there is so much in this small bottle, the price is not unreasonable and it lasts a long time
Good vanilla flavor
This organic vanilla flavor liquid tastes good and smells nice
Great flavor to have on hand!
I love to have vanilla extracts on hand for when I'm cooking/baking.
Great flavor, non alcohol base
I ordered this for baking