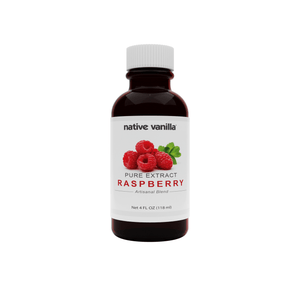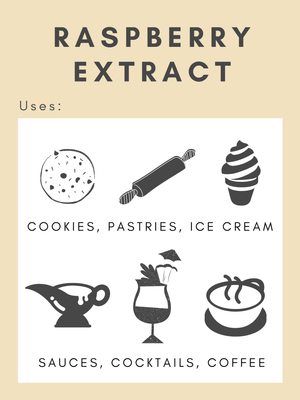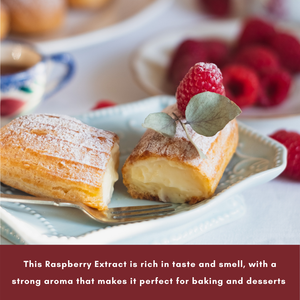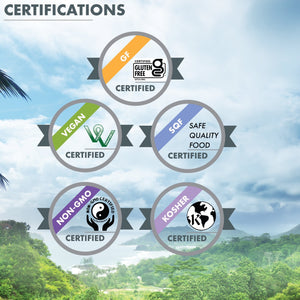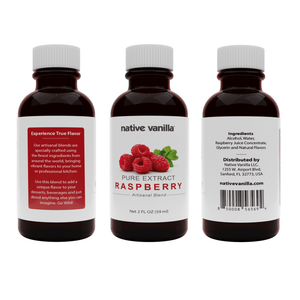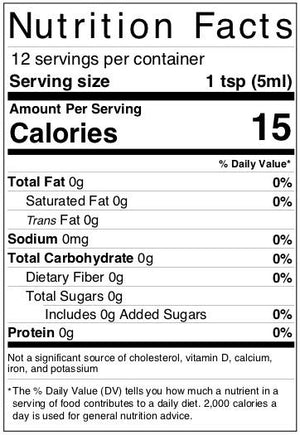 | | |
| --- | --- |
| Product: | Raspberry Extract |
| Flavor Notes: | fruity, sweet, and slightly tangy with a distinct raspberry taste |
| Sizes: | 4oz, 1 Gallon |
| Ingredients: | Alcohol, Water, Raspberry Juice Concentrate, Glycerin, and Natural Flavors |
| Certifications: | SQF, Kosher, Vegan, Non-GMO, Gluten Free |
| | |
| --- | --- |
| Uses: | |
| Sweet Ideas:  | cupcakes, macarons, cheesecake, muffins, buttercream frosting, scones, tart |
| Beverage Ideas: | lemonade, iced tea, smoothie, milkshake, mojito, martini, margarita, sangria |
Raspberry extract is a concentrated flavoring derived from raspberries, and it is typically used in a wide range of food and beverage applications to add the sweet and tart taste of raspberries.
The flavor of raspberry extract is typically described as fruity, sweet, and slightly tangy with a distinct raspberry taste. It has a bright red color and can add a delicious, fresh flavor to a variety of desserts, baked goods, beverages, and even savory dishes.
The aroma of raspberry extract is also quite distinctive, with a sweet and fruity fragrance that is reminiscent of freshly picked raspberries. When used in cooking or baking, raspberry extract can provide a natural and intense raspberry flavor that is sure to please anyone who loves this popular berry.
Raspberry extract
Very tasty. Going to make salad dressing with it just haven't done it yet. I am sure it will be yummy!
Love it!
I've already made iced tea, hot tea, and cake with it.
Great flavor
Made blue raspberry slush with this . It turned out delicious !