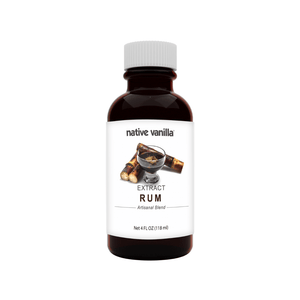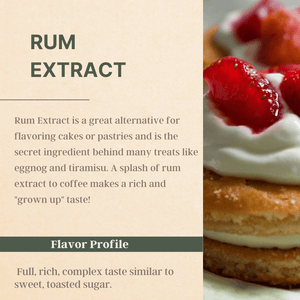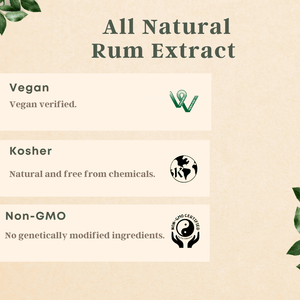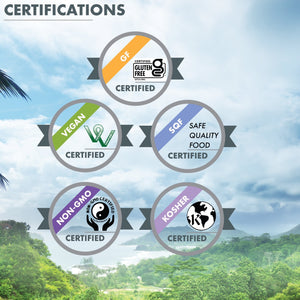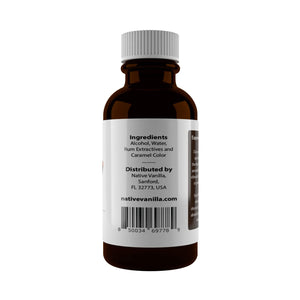 | | |
| --- | --- |
| Product: | Rum Extract |
| Flavor Notes: | rich and sweet, with a distinct aroma of vanilla and caramel |
| Sizes: | 4oz, 1 Gallon |
| Ingredients: | Alcohol, Water, Rum Extractives, Caramel Color |
| Certifications: | SQF, Kosher, Vegan, Non-GMO, Gluten Free |
| | |
| --- | --- |
| Uses: | |
| Sweet Ideas:  | rum cake, rum balls, raisin cookies, ice cream, custard, buttercream frosting |
| Beverage Ideas: | milkshake, hot chocolate, iced tea, punch |
Rum Extract is made from the finest ingredients including rum extractives. Rum Extract has a full, rich, complex flavor much like that of actual rum which is similar to sweet, toasted sugar. Rum Extract packs a punch which has more flavor with less alcohol than the actual rum.
Rum extract is a great alternative for flavoring cakes and pastries and is the secret ingredient behind lots of our favorite treats like banana foster, eggnog and even tiramisu, outstanding treats for adults. Tea time would just not be the same without classic tres leches cake, coconut-rum cake, creamy cranberry cheesecake or delectable rum balls. 
Savory dishes can also benefit from a dash of Rum Extract. Braised pork loin with mint, Jamaican jerk chicken, double smoked ham or Ghanaian hot pepper sauce are all mouthwateringly enhanced. 
Add a splash of rum extract to hot chocolate, coffee or even a cordial for a more grown up taste. Of course, there are a plethora of simply sensational cocktails with Rum Extract to enjoy. So the next time you want to enjoy a lazy Sunday afternoon tipple, consider adding a teaspoon to a classic creamy Mai Tai, a spiced rum milk punch cocktail or a light and refreshing mojito mocktail to ease your woes and gently relax.
Great Vanilla products.
All the different extracts are amazing.
Excellent
Rum raisin ice cream was a success! This made all the difference.