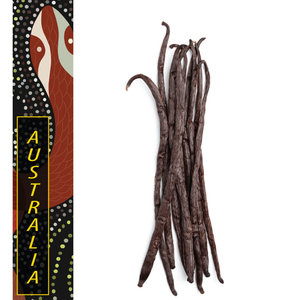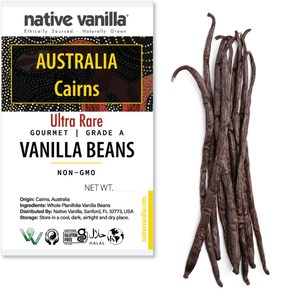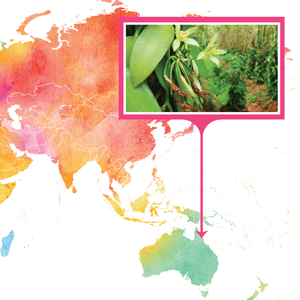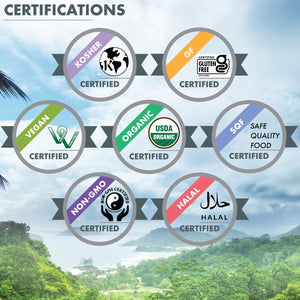 | | |
| --- | --- |
| Bean Origin: | Australia |
| Region: | Cairns |
| Rarity Index: | Ultra Rare |
| Bean Grade: | Gourmet - Grade A |
| Moisture Content: | 28-35% |
| Bean Size: | 4.5-5.5 inches | 13-15cm |
| Bean Family: | Vanilla Planifolia |
| Certifications: | Vegan, Gluten Free, Halal, Non-GMO ,Kosher |
| | |
| Bean Flavor Profile | |
| Tasting Notes: | creamy and floral aroma, hints of eucalyptus or spicy notes. |
| Extract Taste: | sweet, buttery with subtle notes of chocolate/caramel scent. |
| Recommended Extract Spirit: | Vodka, Rums, Bourbons, Brandy |
| | |
| Uses: | Extract Making, Baking, Cooking, Breweries, Cocktails |
| Pairing: | Great for baking, custards, puddings, ice cream, and making vanilla extract. |
Welcome to Australia, Cairns!
Australia has been gaining recognition in recent years as a producer of high-quality vanilla beans. While Madagascar and Tahiti are traditionally renowned for their vanilla production, Australian vanilla beans have been making a name for themselves in the global market due to their unique flavor profile and the country's commitment to sustainable farming practices.
History of Vanilla Cultivation in Australia
Australia's vanilla production primarily centers on the northeastern state of Queensland, where the climate and soil conditions are favorable for vanilla cultivation. The main variety of vanilla grown in Australia is the Bourbon vanilla, known for its rich, sweet, and creamy flavor. These beans are grown on small-scale farms, and their production is known for being both environmentally friendly and sustainable.
Divine Aromas and Flavoring
Australian vanilla beans are distinguished by their unique flavor profile, which is often described as having a deep, woody, and smoky character with subtle fruity undertones. This distinctive taste comes from the terroir of the region, where the beans absorb flavors from the native flora and unique soil conditions. This gives Australian vanilla a flavor that is distinct from the more widely known vanilla varieties from other regions.
Culinary Uses
Australian vanilla beans are a sought-after ingredient in the culinary world. They are used in a wide range of sweet and savory dishes, including ice creams, custards, pastries, and even marinades for meats. The complex flavor of Australian vanilla beans can elevate the taste of various dishes, making them an essential ingredient in many kitchens.
The Vanilla Bean Rarity Index > Ultra Rare
The Vanilla Bean Rare Index classifies beans according to their rarity based on location, farmer and vanilla bean type. These Planifolia Vanilla Beans from Australia are grown by farmers in are in limited supply. Hence, they are categorized as Incredibly Ultra Rare on the Vanilla Bean Rare Index.
Storage of Vanilla Beans
Vanilla beans should be stored in a cool, dark place in an airtight container, separate from other spices. They should be kept away from heat, moisture, light, or air.
In summary, Australian vanilla beans have carved a niche for themselves in the competitive world of vanilla production. With their unique flavor, sustainable farming practices, and increasing recognition on the global stage, they represent a valuable addition to the world of gourmet ingredients and continue to capture the imagination of food enthusiasts and chefs alike.
How to Make Vanilla Extract
For more information, check out our more detailed homemade extract guide
here: https://nativevanilla.com/blogs/recipes/how-to-make-vanilla-extract

Vanilla Extract Calculator
Calculate how much vanilla you need to make your extract.
https://nativevanilla.com/blogs/recipes/vanilla-extract-calculator
The beans arrived quickly and it smelled wonderful getting my mail. It was even better when I opened the package. The beans are nice, oily and I can't wait for my extract to be finished to use it. I also put some in to make vanilla sugar.