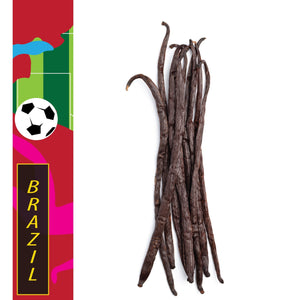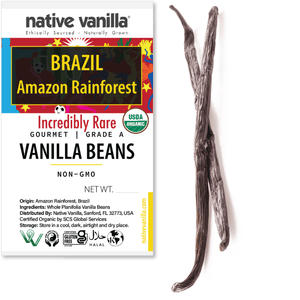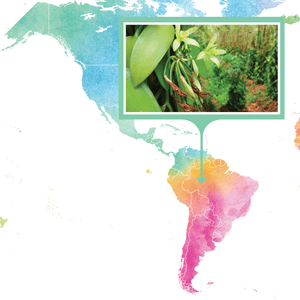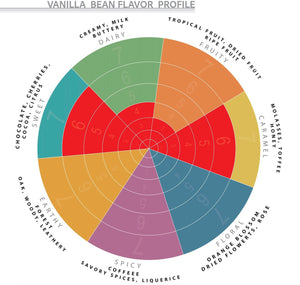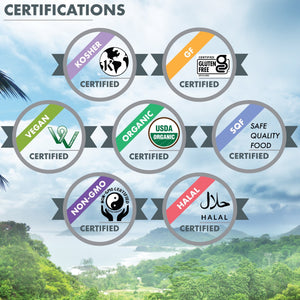 | | |
| --- | --- |
| Bean Origin: | Brazil |
| Region: | Amazon Rainforest |
| Rarity Index: | Incredibly Rare |
| Bean Grade: | Gourmet - Grade A |
| Moisture Content: | 28-35% |
| Bean Size: | 5-7 inches | 13-18cm |
| Bean Family: | Vanilla Planifolia |
| Certifications: | Organic Vegan, Gluten Free, Halal, Non-GMO ,Kosher |
Bean Flavor Profile
Tasting Notes:
sweet, buttery

 

with subtle notes of a woody chocolate/caramel scent.
Extract Taste:
traditional vanilla experience, spicy, notes of mocha, caramel, dried fruit.
Recommended Extract Spirit:
Vodka, Rums, Bourbons, Brandy
| | |
| --- | --- |
| Uses: | Extract Making, Baking, Cooking, Breweries, Cocktails |
| Pairing: | Works well with apples, ice cream, melon, milk, tarts. |
Welcome to Brazil, Atlantic Rainforest!
The Brazil Atlantic rainforest is a unique and biodiverse ecosystem located along the Atlantic coast of Brazil. This forest is known for its incredible variety of plant and animal life, as well as its stunning natural beauty.
Stretching along the eastern coast of Brazil, the Atlantic rainforest covers an area of approximately 1.3 million square kilometers, making it one of the largest rainforests in the world.
The Brazil Atlantic rainforest is home to an incredible variety of plant species, many of which are found nowhere else in the world. These include a wide range of trees, vines, and epiphytes, as well as numerous species of ferns, orchids, and bromeliads. The forest is also home to a rich variety of wildlife, including jaguars, ocelots, monkeys, and a vast array of bird species.
History of Vanilla Cultivation in Brazil
Vanilla is a popular flavoring that has a long history in the Brazil Atlantic rainforest. The vanilla plant, scientifically known as Vanilla planifolia, is a type of orchid that is native to Mexico and Central America. However, the plant was introduced to Brazil during the colonial era, and it thrived in the Atlantic rainforest region.
Vanilla is an important crop for the people of the Atlantic rainforest, providing income and employment opportunities. The plant is typically grown on small-scale family farms, and the beans are harvested by hand. The beans are then cured and dried, a process that can take several months.
The Perfect Organic Planifolia Bean from Brazil
These Organic Planifolia vanilla beans grown in The Atlantic Rainforest are characterized by their distinct appearance, aroma, and flavor. The beans are long and slender, with a dark brown color and a slightly oily sheen. The vanilla bean is known for its high moisture content of between 30% and 35%. The beans are over 15 cm in length.
Divine Aromas and Flavoring
The vanilla beans from Brazil have a complex aroma that is sweet, buttery  with subtle notes of a woody chocolate/caramel scent. Great for baking, cooking and making vanilla extract.
In Brazil, vanilla beans are used in a variety of local desserts like Birgaderios. Brigadeiros is one of the most popular Brazilian desserts. They are small, chocolate truffles made with condensed milk, cocoa powder, and butter and vanilla extract.
The Vanilla Bean Rarity Index > Incredibly Rare
The Vanilla Bean Rare Index classifies beans according to their rarity based on location, farmer and vanilla bean type. These Planifolia Vanilla Beans from The Brazil, Atlantic Rainforest are certified organic and grown by farmers in remote regions and are in limited supply. Hence they are categorized as Incredibly Rare on the Vanilla Bean Rare Index.
Storage of Vanilla Beans
Vanilla beans should be stored in a cool, dark place in an airtight container, separate from other spices. They should be kept away from heat, moisture, light, or air.
Over time, vanilla will generally lose moisture as it evolves. If you follow the above advice, you will be sure to be able to keep your vanilla beans at their aromatic best for 12 to 18 months, so that your vanilla is still soft when you come to use it.
How to Make Vanilla Extract
For more information, check out our more detailed homemade extract guide
here: https://nativevanilla.com/blogs/recipes/how-to-make-vanilla-extract

Vanilla Extract Calculator
Calculate how much vanilla you need to make your extract.
https://nativevanilla.com/blogs/recipes/vanilla-extract-calculator