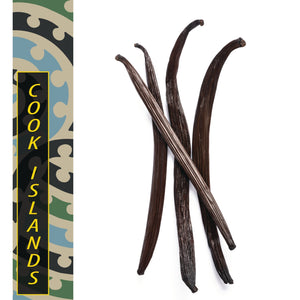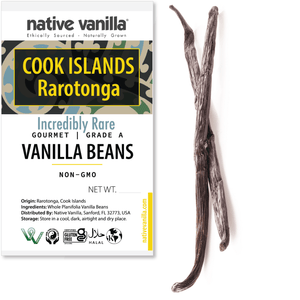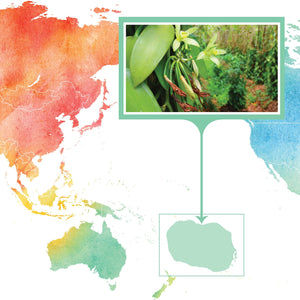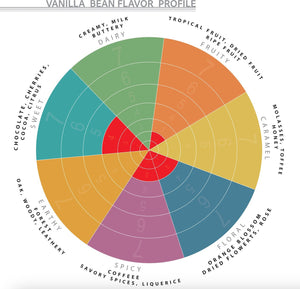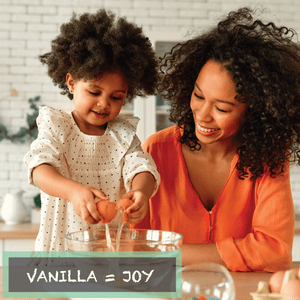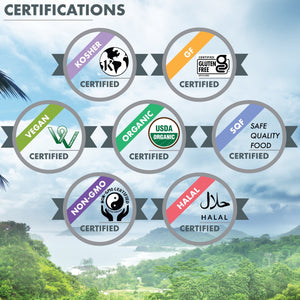 | | |
| --- | --- |
| Bean Origin: | Cook Islands |
| Region: | Rarotonga |
| Rarity Ranking: | Incredibly Rare |
| Bean Grade: | Gourmet - Grade A |
| Moisture Content: | 28-35% |
| Bean Size: | 5-7 inches | 13-18cm |
| Bean Family: | Vanilla Tahitensis |
| Certifications: | Vegan, Gluten Free, Halal, Non-GMO ,Kosher |
Flavor Profile
| | |
| --- | --- |
| Tasting Notes: | floral, dry cherries and anise notes. |
| Extract Taste: | deep and fragrant, sweet, fruity, spicy. |
| Recommended Extract Spirit: | Vodka, Rums, Bourbons, Brandy |
| | |
| --- | --- |
| Uses: | Extract Making, Baking, Cooking, Breweries, Cocktails |
| Pairing: | Ice cream, custard, cakes, cookies, sweet sauces, and crème brûlée. |
Welcome to Rarotonga, Cook Islands
Rarotonga is a unique island in the Cook Islands archipelago. Think lush tropical rainforests, crystal clear lagoons and sandy beaches. It also has a rich cultural heritage and a land of friendly smiles and warm welcomes. Rarotonga is home to some of the world's finest Tahitensis vanilla beans!
Cook Islands and the Vanilla Bean Industry
The Tahitensis vanilla bean is a variety of vanilla Planifolia, native to Tahiti and was first introduced to Rarotonga in the early 1900s.
Farming Tahitensis vanilla beans in Rarotonga has potential advantages, including a unique flavor profile, high market demand as it commands a higher price than Bourbon vanilla beans, a suitable warm and humid tropical climate, and potential for sustainable income. However, there are also challenges such as the labor-intensive nature of farming, finding a reliable workforce, a vulnerability to natural disasters, competition from other regions such as Tahiti and Papua New Guinea and limited infrastructure.
The Cook Islands Tahitensis Bean
Tahitensis vanilla beans from Cook Islands are typically 16-18cm long and have a thin, plump and flexible skin. They are dark brown in color and have a slightly oily sheen. These beans have a high moisture content of between 30 to 35 percent, which makes them plump and juicy. The high moisture content also contributes to their wonderful flavor.
Divine Aromas and Flavoring
Tahitensis vanilla beans have a unique flavor profile that is often described as fruity, floral, and slightly spicy. They are less sweet than Bourbon beans and have a higher moisture content, which contributes to their distinct flavor. The aroma of Tahitensis vanilla beans is also distinct, with notes of cherry, almond, and caramel.
Vanilla beans are used in a variety of Cook Island dishes, including desserts and beverages. One popular dish is Ika Mata, which is a raw fish salad that is marinated in lime juice and coconut cream. Vanilla beans are often added to the coconut cream to add a subtle sweetness. Vanilla beans are also used in a variety of cocktails, including the traditional Cook Island drink, Kava.
The Vanilla Bean Rarity Index > Incredibly Rare
The Vanilla Bean Rare Index classifies beans according to their rarity based on location, farmer and vanilla bean type. These Tahitensis Vanilla Beans from the Cook Islands are grown by a few small growers and have a limited production per year. Hence they are categorized as the second rarest of all Vanilla Beans in the index, that is Incredibly Rare on the Rarity Index.
Storage of Vanilla Beans
Vanilla beans should be stored in a cool, dark place in an airtight container, separate from other spices. They should be kept away from heat, moisture, light, or air.
Over time, vanilla will generally lose moisture as it evolves. If you follow the above advice, you will be sure to be able to keep your vanilla beans at their aromatic best for 12 to 18 months, so that your vanilla is still soft when you come to use it.
Overall, Tahitensis vanilla beans from Rarotonga in the Cook Islands are a highly sought-after and prized ingredient in the culinary world.
How to Make Vanilla Extract
For more information, check out our more detailed homemade extract guide
here: https://nativevanilla.com/blogs/recipes/how-to-make-vanilla-extract

Vanilla Extract Calculator
Calculate how much vanilla you need to make your extract.
https://nativevanilla.com/blogs/recipes/vanilla-extract-calculator
beans beans that magical fruit
I bought these to make vanilla extract,
Get a Taste of Tropical Paradise with These Vanilla Beans
I recently purchased vanilla beans from this website and I am blown away by the quality! The beans were plump, moist, and bursting with aroma.
Great flavor!
Used for homemade ice cream. Delicious!
magnifico
Wonderful smell,taste and very fresh
Well packaged and very pliable
Nice vanilla beans that help to make my panna cotta perfect!