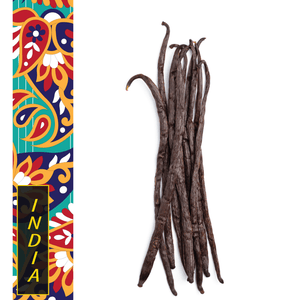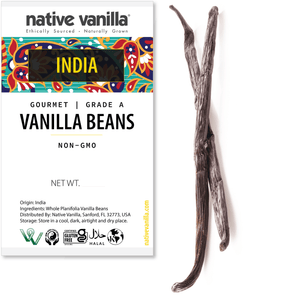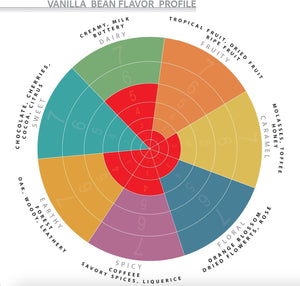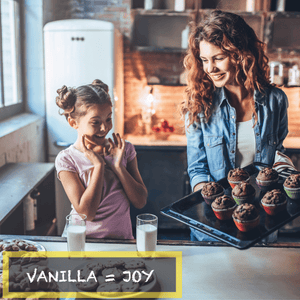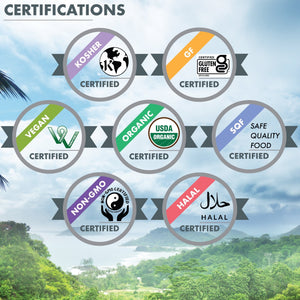 | | |
| --- | --- |
| Bean Origin: | India |
| Region: | Bhatkal |
| Rarity Index: | Tribal Vanilla |
| Bean Grade: | Gourmet - Grade A |
| Moisture Content: | 28-35% |
| Bean Size: | 5-7 inches | 13-18cm |
| Bean Family: | Vanilla Planifolia |
| Certifications: | Vegan, Gluten Free, Halal, Non-GMO ,Kosher |
| | |
| --- | --- |
| Bean Flavor Profile | |
| Tasting Notes: | sweet, creamy, woody, hints of caramel and rum |
| Extract Taste: | warm, sweet, spicy, dark caramel. |
| Recommended Extract Spirit: | Vodka, Rums, Bourbons, Brandy |
| | |
| --- | --- |
| Uses: | Extract Making, Baking, Cooking, Breweries, Cocktails |
| Pairing: | hot chocolate, milkshakes, smoothies |
Welcome to Bhatkal, India
Shhh! Let us share with you a secret. Bhatkal is a small, fascinating town, situated on the coast of the Arabian Sea and home to ancient temples and mosques. It is surrounded by lush forests, scenic hills and stunning beaches with a diverse range of communities including Hindus, Muslims and Christians, with markets and bazaars offering traditional handicrafts, textiles and delicious cuisine. And what is more, is that they grow incredible Tribal Vanilla!
History of Vanilla Cultivation in Bhatkal
Farming of Indian vanilla beans can be traced back to the early 20th century, when a few farmers started growing vanilla as a cash crop. Over the years, it has grown in popularity, with more and more farmers turning to vanilla as a profitable crop. Vanilla plants are usually grown as shade crops under tall trees, which provide protection from the harsh sun. Farmers ensure the plants receive adequate water and hand-pollinate the flowers, which results in the formation of vanilla beans. The vanilla beans are left to mature on the plant for several months before they are harvested. Once harvested, the beans are subjected to a series of processes to develop their distinctive aroma and flavor.
The Beautiful Indian Planifolia Bean
Planifolia vanilla beans in Bhatkal are typically characterized by their super long, slender shape around 17-20 cm and dark brown color. These beans are also known for their high moisture content of between 30 to 35 percent, which makes them juicy. There are several grades of Planifolia vanilla beans available in India with their Grade A beans being of the highest quality, highly sought after.
Divine Aromas and Flavoring
Planifolia vanilla beans from India are known for their rich, sweet aroma and complex flavor. These beans have a distinctive flavor profile that is characterized by notes of caramel, bourbon, and chocolate. The aroma of Planifolia vanilla beans is also intense and sweet, with a floral and slightly fruity undertone.
While vanilla beans may not be a traditional ingredient in Indianl cuisine, they are a delicious and versatile ingredient that can be used to add flavor to a range of dishes and desserts as well as Indian teas and coffees. Whether you are looking for a sweet and creamy dessert or a refreshing milkshake, vanilla beans can be found in some of the best cafes and bakeries in Bhatkal.
The Vanilla Bean Rarity Index > Tribal Vanilla
The Vanilla Bean Rarity Index classifies beans according to their rarity based on location, farmer and vanilla bean type. These Planifolia Vanilla Beans from Bhatkal in India are grown by a few small growers and have extremely limited production per year. Hence they are categorized as the rarest of all vanilla beans in the index and are classified as Tribal Vanilla.
Storage of Vanilla Beans
Vanilla beans should be stored in a cool, dark place in an airtight container, separate from other spices. They should be kept away from heat, moisture, light, or air.
Over time, vanilla will generally lose moisture as it evolves. If you follow the above advice, you will be sure to be able to keep your vanilla beans at their aromatic best for 12 to 18 months, so that your vanilla is still soft when you come to use it.
In conclusion, Bhatkal is a unique and special town that is rich in history, natural beauty, culture, and cuisine. Whether the Planifolia Vanilla Beans are used in baking or cooking, they are sure to add a touch of sweetness and complexity to any dish.
Delicious
Delicious and aromatic. Perfect for vanilla extract.
great beans! got my vanilla in the making now.
excellent fresh, fragrant beans. need more. making vanilla out of rum this batch, next one will be with bourbon.
These bean smell divine
I thought I would try a different country for my vanilla extract. Sooooo Excited.
Making vanilla
I am making vanilla with the beans i let them sit for 6 months thst vanilla is the best