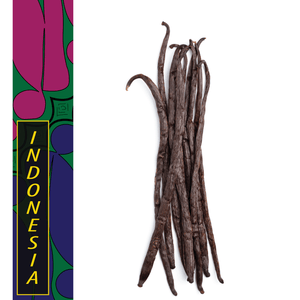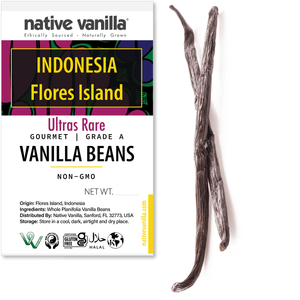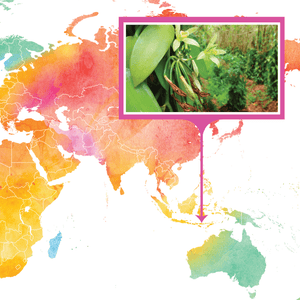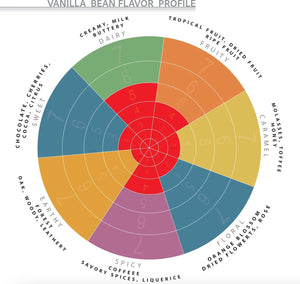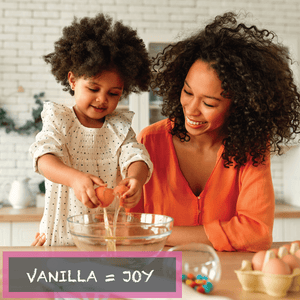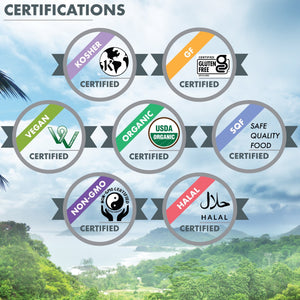 | | |
| --- | --- |
| Bean Origin: | Indonesia |
| Region: | Flores Island |
| Rarity Index: | Ultra Rare |
| Bean Grade: | Gourmet - Grade A |
| Moisture Content: | 28-35% |
| Bean Size: | 5-7 inches | 13-18cm |
| Bean Family: | Vanilla Planifolia |
| Certifications: | Vegan, Gluten Free, Halal, Non-GMO ,Kosher |
| | |
| --- | --- |
| Bean Flavor Profile | |
| Tasting Notes: | sweet and creamy with hints of caramel, wood, prunes, figs, smoke. |
| Extract Taste: | warm, bold, spicy, fruity |
| Recommended Extract Spirit: | Vodka, Rums, Bourbons, Brandy |
| | |
| --- | --- |
| Uses: | Extract Making, Baking, Cooking, Breweries, Cocktails |
| Pairing: | Great for baking, custards, puddings, ice cream, and making vanilla extract. |
Welcome to Flores Island in Indonesia
Is it fact or is it fiction? Do 3 meter long Komodo dragons exist? Can crater lakes change their color? Absolutely! Flores Island is home to the rare Komodo dragon, found nowhere else in the world and three colorful lakes that change color over time. Flores Island is also known for its rugged coastlines, crystal-clear waters, and lush green forests.
And here is another fact - Flores Island has a unique climate and fertile soil that supports the growth of various crops, including Planifolia Vanilla.
History of Vanilla Cultivation in Flores Island
The history of the Planifolia Vanilla bean industry in Flores Island can be traced back to the 19th century when the Dutch introduced vanilla cultivation to the island. The industry saw significant growth during the 1980s, but it experienced a sharp decline in the 1990s due to competition from other countries and a lack of government support. In recent years, the industry has started to recover, with many farmers adopting sustainable farming practices and exploring new markets.
The Fabulous Planifolia Bean from Flores Island
One unique characteristic of the Planifolia Vanilla bean grown in Flores Island is its rich and complex flavor profile, which is a result of the island's unique climate and soil composition. The vanilla beans are dark brown in color, plump and have a high moisture content of between 30% and 35%. The beans are over 15 cm in length and oily looking, making them highly prized in the international market.
Divine Aromas and Flavoring
The differing soil conditions across Indonesia result in an equally diverse vanilla offering. Hence an Indonesian vanilla bean grown in one region is quite different from an Indonesian vanilla bean grown in another region.
The aroma of the Flores Island vanilla bean is described as sweet, floral, and slightly fruity, with a warm, rich, and creamy scent. The flavor is also complex, with notes of caramel, spice, and a slight hint of bitterness. These characteristics make the Flores Island vanilla bean a popular choice for both sweet and savory dishes.
In Flores Island, vanilla is used in a variety of dishes, including traditional desserts such as bubur kacang hijau (mung bean porridge) and es kacang merah (red bean ice). It is also used in savory dishes such as beef rendang, where it adds a subtle sweetness to balance the spiciness of the dish. Additionally, Flores Island vanilla is a popular ingredient in the production of high-quality chocolate, ice cream, and other confectioneries.
The Vanilla Bean Rarity Index > Ultra Rare
The Vanilla Bean Rare Index classifies beans according to their rarity based on location, farmer and vanilla bean type. These Planifolia Vanilla Beans from Flores Island in Indonesia are grown by farmers in remote regions and are in limited supply. Hence they are categorized as Ultra Rare on the Vanilla Bean Rare Index.
Storage of Vanilla Beans
Vanilla beans should be stored in a cool, dark place in an airtight container, separate from other spices. They should be kept away from heat, moisture, light, or air.
Over time, vanilla will generally lose moisture as it evolves. If you follow the above advice, you will be sure to be able to keep your vanilla beans at their aromatic best for 12 to 18 months, so that your vanilla is still soft when you come to use it.
In conclusion, the farming of the Planifolia vanilla bean has great potential to continue to thrive and contribute to the unique cultural and culinary heritage of Flores Island as well as offer the world a fabulous high quality vanilla bean.
How to Make Vanilla Extract
For more information, check out our more detailed homemade extract guide
here: https://nativevanilla.com/blogs/recipes/how-to-make-vanilla-extract

Vanilla Extract Calculator
Calculate how much vanilla you need to make your extract.
https://nativevanilla.com/blogs/recipes/vanilla-extract-calculator
Heavenly
Very nice beans. They smell wonderful. They taste heavenly. Very nice. I can't wait for my extracts in a year and 2 years. They are going to be perfect. I did use one bean caviar in a cheesecake and everyone can't stop talking about how wonderful and perfect it was.
Best Ones
Loved how they came packaged and taste
Freshness and Flavor
Packaging, Freshness and Flavor.
Used for vanilla extract
I've been making vanilla extract for about 8 months now and my extract is almost ready!
Awesome flavor
I made homemade vanilla with these and gave it as gifts. Everyone is asking for it as gifts in the future because of the excellent flavor.