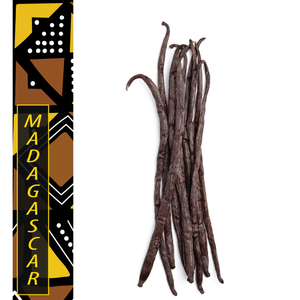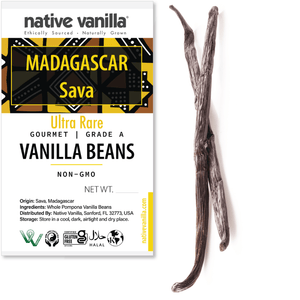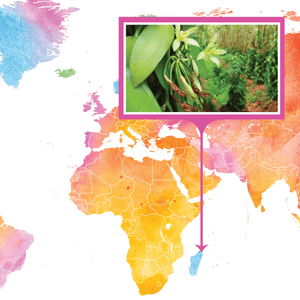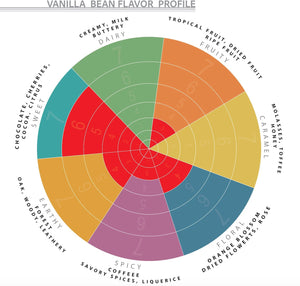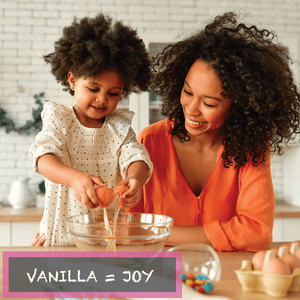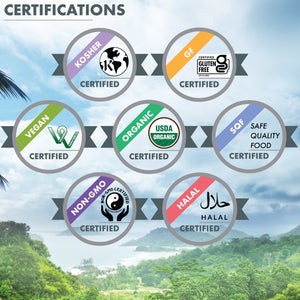 | | |
| --- | --- |
| Bean Origin: | Madagascar |
| Region: | Sava |
| Rarity Index: | Ultra Rare |
| Bean Grade: | Gourmet - Grade A |
| Moisture Content: | 30-35% |
| Bean Size: | 7-9 inches | 18-24cm |
| Bean Family: | Vanilla Pompona |
| Certifications: | Vegan, Gluten Free, Halal, Non-GMO ,Kosher |
| | |
| --- | --- |
| Bean Flavor Profile | |
| Tasting Notes: | dark, earthy vanilla, notes of dried fruit like figs, raisins. presence of molasses |
| Extract Taste: | buttery, creamy , fruity |
| Recommended Extract Spirit: | Vodka, Rums, Bourbons, Brandy |
| | |
| --- | --- |
| Uses: | Extract Making, Baking, Cooking, Breweries, Cocktails |
| Pairing: | Works well with apples, fish, ice cream, melon, milk, peaches, pears and strawberries. |
Welcome to SAVA!
Madagascar is home to an incredible array of unique plant and animal species, many of which are found nowhere else in the world. Think lemurs, chameleons and baobab trees! It is also a destination for adventure travelers. Discover its stunning rain forests, coral reefs, pristine white sand beaches and different cultures and ethnic groups.
Madagascar is also the reigning island powerhouse and grower/curer of over two-thirds of the world's vanilla supply. The high quality of the vanilla produced in SAVA has helped establish Madagascar as a global leader in the vanilla trade.
History of Vanilla Cultivation in SAVA
Vanilla was first introduced to Madagascar in the late 19th century by French colonizers, who saw the island's climate and soil as ideal for growing vanilla beans. Initially, vanilla cultivation occurred near the coast, but over time it became concentrated in a region known as the "orchid triangle". It is also called "SAVA", which corresponds to the initials of the main production towns, namely Sambava, Antalaha, Vohemar and Andapa.
Vanilla farming in SAVA is largely carried out by small-scale farmers, who grow the plants on small plots of land using traditional methods. This process is time-consuming and requires a great deal of skill and expertise. In 2017, the region experienced a cyclone, which devastated many of the vanilla plantations. Due to the high demand for vanilla, the price skyrocketed, making it also a target for theft. Despite these challenges, the vanilla bean industry continues to thrive producing high-quality vanilla beans.
The Rare but Not Forgotten Pompona Bean from SAVA
Planifolia (Bourbon) vanilla beans with their sweet and creamy flavor are the most popular type of vanilla grown in Madagascar. Pompona vanilla from Madagascar is not a pure Pompona bean but rather a hybrid of Pompona and Planifolia vanilla that happened after many decades of these orchids growing side by side.
The Pompona vanilla beans grown in SAVA are wide and long. These beans typically measure over 15 cm in length and are known for their high moisture content of between 30% and 35%.
Divine Aromas and Flavoring
The aroma of Pompona vanilla beans grown in SAVA has notes of caramel and honey. The flavor is similarly complex with notes of ripe plums, dark chocolate, and hints of cherry that is highly prized by chefs and bakers around the world.
In SAVA, vanilla is a ubiquitous ingredient in both sweet and savory dishes. Some popular local dishes that make use of vanilla include Ravitoto Sy Hena-kisoa, a stew made with cassava leaves and pork, flavored with ginger, garlic, as well as vanilla and Tsaramaso Sy Henanjoany which is a traditional dessert served cold, made with rice flour and coconut milk, flavored with vanilla and sugar.
The Vanilla Bean Rarity Index > Ultra Rare
The Vanilla Bean Rare Index classifies beans according to their rarity based on location, farmer and vanilla bean type. These Pompona Vanilla Beans from SAVA are grown by farmers in remote regions and are in limited supply. Hence they are categorized as Ultra Rare on the Vanilla Bean Rare Index.
Storage of Vanilla Beans
Vanilla beans should be stored in a cool, dark place in an airtight container, separate from other spices. They should be kept away from heat, moisture, light, or air.
Over time, vanilla will generally lose moisture as it evolves. If you follow the above advice, you will be sure to be able to keep your vanilla beans at their aromatic best for 12 to 18 months, so that your vanilla is still soft when you come to use it.
In conclusion, the vanilla bean industry in SAVA is a vital part of the region's economy and culture. The high quality of the vanilla produced in this area, combined with its unique flavor profile, has helped to establish Madagascar as a global leader in the vanilla trade.
How to Make Vanilla Extract
For more information, check out our more detailed homemade extract guide
here: https://nativevanilla.com/blogs/recipes/how-to-make-vanilla-extract

Vanilla Extract Calculator
Calculate how much vanilla you need to make your extract.
https://nativevanilla.com/blogs/recipes/vanilla-extract-calculator
Heavenly vanilla scent
These are some of my favorite beans from Native Vanilla! They are plump and shiny and beautiful. The scent is everything you want in a nice Vanilla. I'm always happy with the quality and fast shipping from NV.
Massive Vanilla Beans
These vanilla beans are huge. I've never seen anything like it. Love love love!
I can't wait to soak them in some vodka.
Great vanilla beans,
Awesome in all things baked
Great Price and Great Product
Using it to make Vanilla Extract. This is perfect for that project