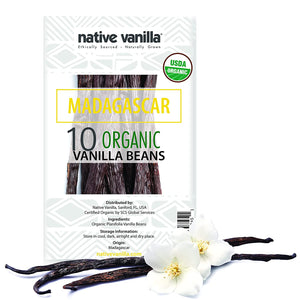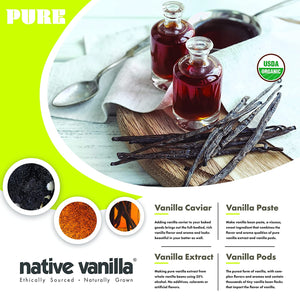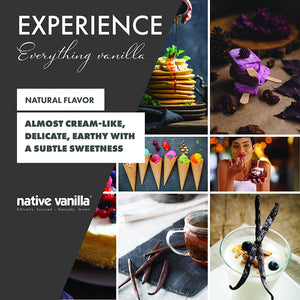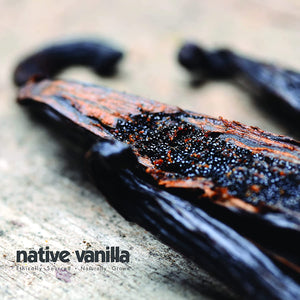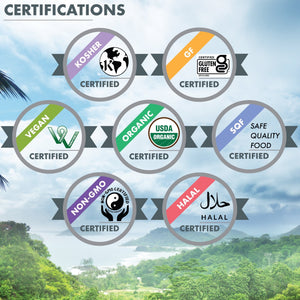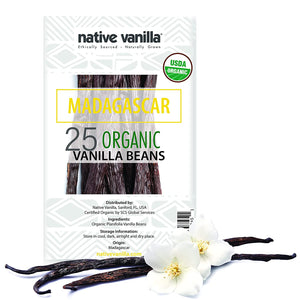 | | |
| --- | --- |
| Bean Origin: | Madagascar |
| Region: | Sava |
| Bean Grade: | Gourmet - Grade A |
| Moisture Content: | 30-35% |
| Bean Size: | 4-6 inches | 10-15cm |
| Bean Family: | Vanilla Planifolia |
| Certifications: | Organic, USDA, Vegan, Gluten Free, Halal, Non-GMO ,Kosher |
| | |
| --- | --- |
| Bean Flavor Profile | |
| Tasting Notes: | rich, dark and creamy with an overwhelming sweet, buttery aroma. sweet, earthy, undertones of dried dark fruits |
| Extract Taste: | buttery, creamy , fruity |
| Recommended Extract Spirit: | Vodka, Rums, Bourbons, Brandy |
| | |
| --- | --- |
| Uses: | Extract Making, Baking, Cooking, Breweries, Cocktails |
| Pairing: | Works well with apples, fish, ice cream, melon, milk, peaches, pears and strawberries. |
Welcome to Sava
These Organic Madagascar Vanilla Beans are certified by SCS Global Services as organic. Madagascar exports about 80% of the world's supply of Bourbon vanilla, instantly recognizable and loved by bakers and chefs around the globe.
The island country produces vanilla from the genus Vanilla Planifolia, which has a higher concentration of vanillin than beans from other regions. Madagascan vanilla is mainly grown in the humid northern parts of the tropical island, known as the Sava region. This is where you'll find Black vanilla, the finest quality vanilla beans in the world. Bourbon-Madagascar vanilla beans have a higher-than-average water and oil content and an abundance of seeds.
Madagascar is famous for producing high-quality vanilla beans, which are widely used in the food industry and in the production of various consumer products. The vanilla beans from Madagascar are known for their rich and creamy flavor, with notes of caramel, cherry, and almond. They are also characterized by their plump, oily appearance and their distinctive aroma.
Madagascar vanilla beans are typically harvested by hand when they are fully ripe and have developed their full flavor and aroma. They are then cured and dried in the sun, which helps to develop their complex flavor profile. The curing process can take several weeks and involves a series of steps, including blanching, sweating, and drying.
Divine Aromas and Flavoring
The vanilla beans from Sava, Madagascar are characterized by their rich, dark and creamy with an overwhelming sweet, buttery aroma. sweet, earthy, undertones of dried dark fruits. They are also known for their long and plump shape, which is a sign of high quality.
Storage of Vanilla Beans
Store the fresh vanilla beans in a tightly sealed airtight container, preferably a glass jar. Keep them away from heat and in a dark place such as a pantry or dark cabinet. Do not refrigerate the beans because this can cause them to mold. Once you split the vanilla pods open with a knife or kitchen scissors and scrape out the vanilla seeds, put the leftover pods in sugar to make vanilla sugar.
Overall, Madagascar vanilla beans are highly prized for their rich flavor, distinctive aroma, and versatility in the kitchen and beyond.
How to Make Vanilla Extract
For more information, check out our more detailed homemade extract guide
here: https://nativevanilla.com/blogs/recipes/how-to-make-vanilla-extract

Vanilla Extract Calculator
Calculate how much vanilla you need to make your extract.
https://nativevanilla.com/blogs/recipes/vanilla-extract-calculator
Organic Madagascar, Sava - Gourmet Vanilla Beans - Grade A
Gourmet Vanilla Beans
Beyond exceptional! These plump, aromatic beans elevate every dessert I make, from ice cream to cookies. Their organic quality and rich flavor make them worth the investment for any cook. A must-have for anyone looking to enhance their culinary creations.
Organic Madagascar, Sava - Gourmet Vanilla Beans - Grade A
Amazing and quick
When my package showed up I opened it immediately and the smell was amazing. They were moist and easy to work with. I made my first batch of vanilla can't wait to use it. I was amazed at how quick it arrived. Thank you.
First time to use vanilla from your company, and first time to use vanilla in this form. I will have to wait until the vanilla is processed into a extract in order to give a accurate review.Rose