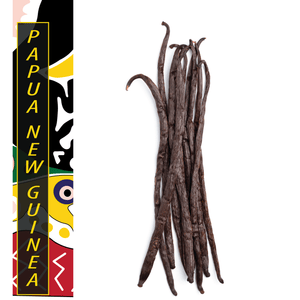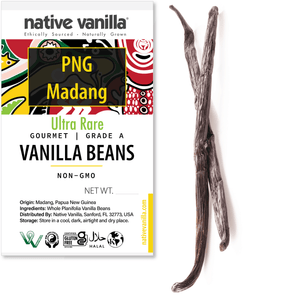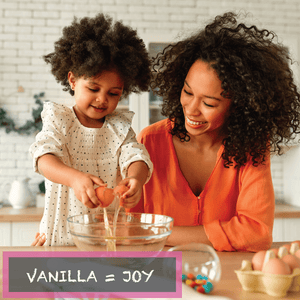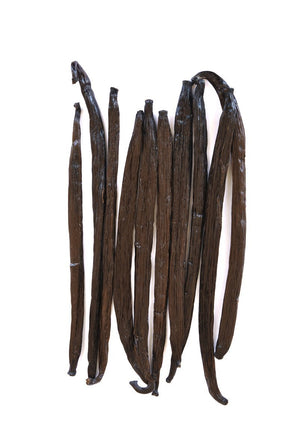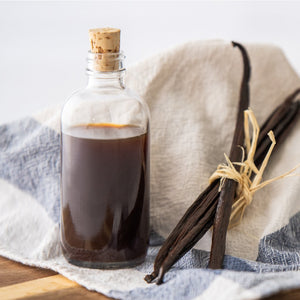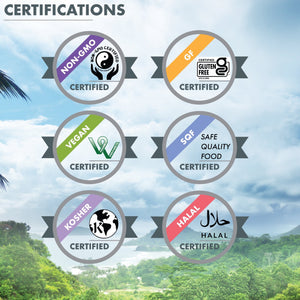 | | |
| --- | --- |
| Bean Origin: | Papua New Guinea |
| Region: | Madang |
| Rarity Index: | Ultra Rare |
| Bean Grade: | Gourmet - Grade A |
| Moisture Content: | 30-35% |
| Bean Size: | 6-8 inches | 14-18cm |
| Bean Family: | Vanilla Planifolia |
| Certifications: | Vegan, Gluten Free, Halal, Non-GMO ,Kosher |
| | |
| --- | --- |
| Bean Flavor Profile | |
| Tasting Notes: | rich, sweet, and creamy flavor, with notes of caramel and a floral aroma. |
| Extract Taste: | bold vanilla, subtle hints of caramel. |
| Recommended Extract Spirit: | Vodka, Rums, Bourbons, Brandy |
| | |
| --- | --- |
| Uses: | Extract Making, Baking, Cooking, Breweries, Cocktails |
| Pairing: | Desserts and pastries that have rich, dark chocolates along with muffins, tarts and fruit pies. |
Welcome to Madang!
Madang is a beautiful coastal town located on the north coast of Papua New Guinea. It is renowned for its stunning coral reefs, abundant marine life and traditional pottery attracting a range of tourists including divers, snorkelers, hikers and cultural enthusiasts. Witness the Madang festival featuring traditional music, dance, and art. View the Coastwatchers Memorial Lighthouse, a historic landmark in memory of a group of soldiers who provided intelligence to Allied forces during World War II.
But did you know that Madang is also a renowned vanilla-growing region, and its Planifolia Vanilla Bean is highly sought after by chefs and foodies around the world. 
History of Vanilla Cultivation in Madang
Planifolia vanilla bean farming in Madang, Papua New Guinea (PNG) has a long history dating back to the early 1900s. The region has ideal growing conditions for vanilla beans, with a tropical climate, rich volcanic soil, and abundant rainfall. In late 2020, the Australian High Commission through a new partnership with Kamapim agreed to provide training to thousands of farmers in the Madang province to produce high-grade vanilla beans and thereby secure better markets and a stable income for themselves.
The Ultra Rare Planifolia Bean from Madang
Vanilla beans from Madang, Papua New Guinea are known for their unique flavor profile and high quality. Papua New Guinea has become a major producer of vanilla beans in recent years, with the Madang region being particularly well-known for its high-quality beans. These vanilla beans are a long, thin, and plump bean with a shiny, dark brown color when fully mature. The vanilla bean is known for its high moisture content of between 30% and 35%. The beans are around 14-18 cm in length.
These Madang Gourmet Planifolia Vanilla beans are hand selected from the finest curing processes by our micro farmers in PNG's Madang province and are certified Grade A, premium quality vanilla beans. Grade A vanilla beans are visually attractive and can be used as a feature ingredient in gourmet cuisine. These beans add a smooth rich background taste- use to balance sauces for shellfish, chicken, and veal or soften dairy flavors in desserts. Add to a mug of hot chocolate, coffee, or tea for added richness.
Divine Aromas and Flavoring
The vanilla beans from Madang are characterized by their rich, sweet, and creamy flavor, with notes of caramel and a floral aroma. They are also known for their long and plump shape, which is a sign of high quality.
Madang vanilla beans are typically used in a variety of culinary applications, including baking, desserts, and beverages. They are also often used in the production of vanilla extract and other vanilla-based products.
When the beans are ripe, they exude a sweet, floral aroma that is characteristic of high-quality vanilla. The flavor of the Madang Planifolia Vanilla Bean is bold and complex, with notes of sweet cream, chocolate and subtle hints of fruits like fig.
The Vanilla Bean Rarity Index > Ultra Rare
The Vanilla Bean Rare Index classifies beans according to their rarity based on location, farmer, and vanilla bean type. These Planifolia Vanilla Beans from Madang are grown from a single region of farmers in very remote areas. According to the Vanilla Bean Rarity Index they are classified as Ultra Rare Vanilla.
Storage of Vanilla Beans
Store the fresh vanilla beans in a tightly sealed airtight container, preferably a glass jar. Keep them away from heat and in a dark place such as a pantry or dark cabinet. Do not refrigerate the beans because this can cause them to mold. Once you split the vanilla pods open with a knife or kitchen scissors and scrape out the vanilla seeds, put the leftover pods in sugar to make vanilla sugar.
Overall, if you're looking for a premium vanilla bean with a unique and complex flavor, Madang, Papua New Guinea vanilla beans are definitely worth considering.
How to Make Vanilla Extract
For more information, check out our more detailed homemade extract guide
here: https://nativevanilla.com/blogs/recipes/how-to-make-vanilla-extract

Vanilla Extract Calculator
Calculate how much vanilla you need to make your extract.
https://nativevanilla.com/blogs/recipes/vanilla-extract-calculator
The smell, color and flavor is AMAZING! Packaging and overall quality that I received from NATIVE VANILLA has been, and still is UNMATCHED!
Absolutely love these beans!
I could smell them before I opened my mailbox!! I love the fragrance of these beans. I am making paste for Christmas gifts and I'm sure everyone will love the choice in beans! They are very plump and full of caviar! Thank you Native Vanilla and Jax for supplying me with the very best vanilla beans! Y'all rock!!
It hasn't arrived yet and tracking's not showing anything
Deliciously wonderful!
My PNG Madang beans were so oily and plump. And the smell was out of this world too! Just when I think I have a favorite bean, along comes another bean and changes the game. I also purchased maple extract and it is delicious!!! Whether it's extract or vanilla beans, purchasing from Native Vanilla should be your only choice.
Best thing I ever did!!
Omg let me start by telling you the beans were packaged perfectly, delivered fast and were so dark and squishy. I could smell them before I got my mailbox open, then once opened the smell was so amazing. I ripped open the shipping packaging and took a long sniff with my nose right on the packaged beans. Omg I was in love. Down to the liquor store I went for some vodka and home to get my beans swimming. I cut open the bean packaging and they were perfect, long 5-8 inches long, plump, and oily. I slept with my hands inFront of my face so I could enjoy the smell longer. My vanilla extract is currently in the cupboard doing its thing and I can't wait for next year when it's done. My shopping experience was phenomenal. I will certainly be a returning customer..
Hi I am Amy and I am a bean-a-holic.