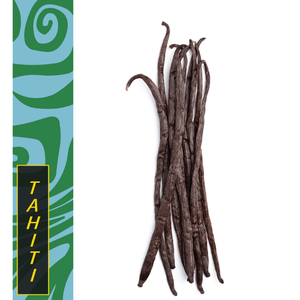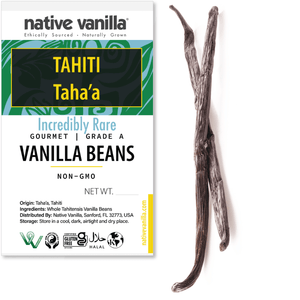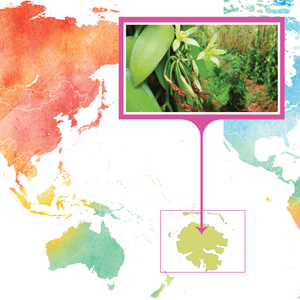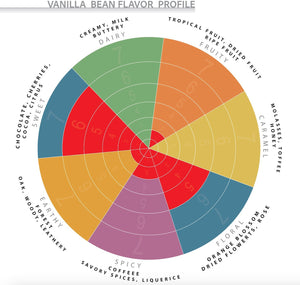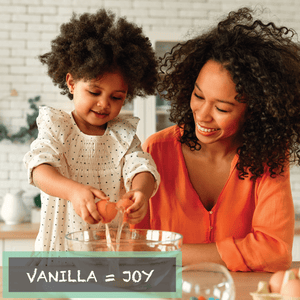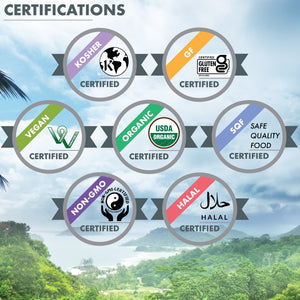 | | |
| --- | --- |
| Bean Origin: | Tahiti |
| Region: | Taha'a |
| Rarity Index: | Incredibly Rare |
| Bean Grade: | Gourmet - Grade A |
| Moisture Content: | 28-35% |
| Bean Size: | 5-7 inches | 13-18cm |
| Bean Family: | Vanilla Tahitensis |
| Certifications: | Vegan, Gluten Free, Halal, Non-GMO ,Kosher |
| | |
| --- | --- |
| Bean Flavor Profile | |
| Tasting Notes: | fruity and floral aroma, with hints of cherry, prune, and anise. |
| Extract Taste: | floral, smelling like licorice, cherries or wine. |
| Recommended Extract Spirit: | Vodka, Rums, Bourbons, Brandy |
| | |
| --- | --- |
| Uses: | Extract Making, Baking, Cooking, Breweries, Cocktails |
| Pairing: | Pastry creams, fruit pies and sauces, smoothies, shakes, custards, puddings, yogurt, ice cream |
Welcome to Taha'a!
Vanilla beans from Tahiti have a unique flavor profile compared to other vanilla beans. They are known for having a fruity and floral aroma, with hints of cherry, prune, and anise. The flavor is also floral and fruity, with notes of cherry, fig, and sometimes even papaya.
Tahitian vanilla beans are also known for their high moisture content and oily texture, which gives them a supple, plump appearance. They are generally considered to be one of the most expensive and sought-after types of vanilla beans, due to their unique flavor profile and rarity.
Vanilla Cultivation in Taha'a
Taha'a is an island in French Polynesia, located in the Society Islands archipelago. It is known for its production of vanilla, which is one of its main agricultural exports. Vanilla cultivation in Taha'a has a long history, and the island is considered one of the world's premier vanilla growing regions.
Vanilla cultivation in Taha'a typically involves growing vanilla orchids on trellises or support structures, such as poles or trees. The orchids require a tropical climate, with high humidity and rainfall, and they are often grown in shade or partial shade to protect them from direct sunlight.
The vanilla orchids produce pods, which are harvested and cured to produce vanilla beans. The pods are picked when they are still green and then subjected to a series of processes, including blanching, sweating, drying, and aging, to develop their distinctive flavor and aroma.
The cultivation of vanilla in Taha'a is labor-intensive and requires skilled workers. Many of the farmers on the island are small-scale producers who grow vanilla as a cash crop.  Vanilla cultivation remains an important part of Taha'a's economy and cultural heritage.
The Exotic Tahitensis Bean from Taha'a, Tahiti
The Tahitensis Vanilla Beans grown in Taha'a have a distinct appearance, aroma, and flavor compared to other types of vanilla beans. They are shorter and plumper than other vanilla beans, with a rich and oily appearance.  These beans are much larger than any other Tahitensis vanilla beans. The beans are over 15cm in length and have a moisture content of between 30 and 35%. Tahitensis vanilla beans are graded based on their length, moisture content, and appearance.
Exotic Aromas and Flavoring
Tahitensis vanilla beans are known for their unique flavor and aroma profile. The beans have a fruity and floral aroma, with hints of cherry, prune, and anise.
In local cuisine, Tahitensis Vanilla Beans are a popular ingredient and are used in a variety of dishes. Po'e is a sweet pudding made from mashed taro root and coconut milk, flavored with  vanilla and often served with fresh fruit. Firi Firi is a type of fried doughnut made with coconut milk and flavored with vanilla while Poisson Cru is a traditional Polynesian dish of raw fish marinated in lime juice and coconut milk, with the addition of vanilla adding a sweet and aromatic element to the dish.
The Vanilla Bean Rarity Index > Incredibly Rare
The Vanilla Bean Rare Index classifies beans according to their rarity based on location, farmer and vanilla bean type. These Tahitensis Vanilla Beans from the island of Taha'a in Tahiti are extremely rare, grown from a few small growers in remote areas and have limited production per year. Hence they are categorized as Incredibly Rare according to the Native Vanilla Rare Index.
Storage of Vanilla Beans
Vanilla beans should be stored in a cool, dark place in an airtight container, separate from other spices. They should be kept away from heat, moisture, light, or air.
Over time, vanilla will generally lose moisture as it evolves. If you follow the above advice, you will be sure to be able to keep your vanilla beans at their aromatic best for 12 to 18 months, so that your vanilla is still soft when you come to use it.
These high-quality Tahitian vanilla beans grown in Taha'a are highly prized in the global market with their unique flavor and aroma.
How to Make Vanilla Extract
For more information, check out our more detailed homemade extract guide
here: https://nativevanilla.com/blogs/recipes/how-to-make-vanilla-extract

Vanilla Extract Calculator
Calculate how much vanilla you need to make your extract.
https://nativevanilla.com/blogs/recipes/vanilla-extract-calculator