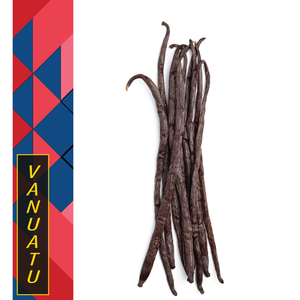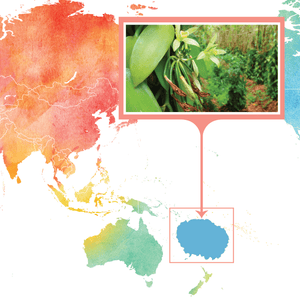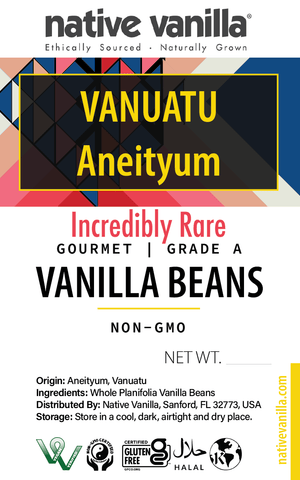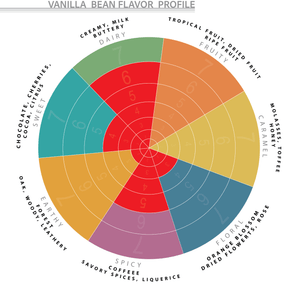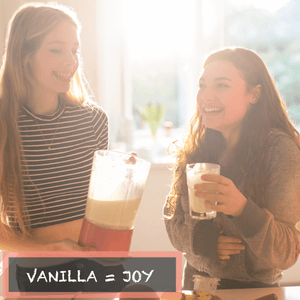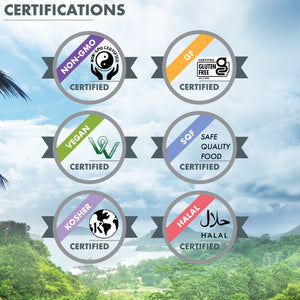 Bean Origin:
Vanuatu
Region:
Aneityum

 

Rarity Index:

Incredibly Rare

Bean Grade:
Gourmet - Grade A
Moisture Content:
28-35%
Bean Size:
5-7 inches | 13-18cm
Bean Family:
Vanilla Planifolia
Certifications:
Vegan, Gluten Free, Halal, Non-GMO ,Kosher
| | |
| --- | --- |
| Bean Flavor Profile | |
| Tasting Notes: | creamy, powerful vanilla aroma with floral notes and notes of cinnamon and raw cocoa |
| Extract Taste: | sweet, rich, and powerful vanilla aroma with subtle notes of cocoa |
| Recommended Extract Spirit: | Vodka, Rums, Bourbons, Brandy |
| | |
| --- | --- |
| Uses: | Extract Making, Baking, Cooking, Breweries, Cocktails |
| Pairing: | Desserts and pastries that have rich, dark chocolates along with muffins, tarts and fruit pies. |
Welcome to Aneityum!
Do you wish to simply get away from it all, and wander into a place that time forgot? If so, then do yourself a favor and visit Aneityum, one of the southernmost islands in Vanuatu. The island's remote location has helped to preserve its cultural heritage and natural environment. Aneityum is home to several unique species of wildlife, including the Aneityum flying fox and is also known for its diverse marine life, with many snorkeling and diving opportunities available. Think white sandy beaches, stunning coral reefs, and tropical rainforests.
And whilst you are there, go discover one of the most popular and sought after types of vanilla bean in the world!
History of Vanilla Cultivation in Aneityum in Vanuatu
Vanilla was first introduced to Aneityum in the late 1800s by European colonizers. The island's tropical climate and fertile soil proved ideal for vanilla cultivation, and it quickly became an important crop for local farmers. Today, vanilla farming remains a major industry on the island, with many small-scale farmers growing vanilla as a cash crop.
The Sought-after Planifolia Bean from Aneityum in Vanuatu
Grown on the southern islands of the Vanuatu archipelago in the South Pacific Ocean, these Vanuatu vanilla beans are extremely rare and are a true treasure. These dark, fleshy pods are full of seeds and their length varies between 16 and 22 cm. The bean is long and slender, with a dark brown color and a slightly oily texture. These Grade A gourmet Vanuatu vanilla beans are long and slender and have a high oil and water content of 30-35%. Vanuatu supplies creamy, sweet vanilla with a main note of floral and a heart note of Cinnamon Zeylanicum, Sandalwood, Raw cocoa and Yellow fruits. Vanuatu vanilla beans come from the Planifolia variety like Bourbon vanilla from Madagascar.
Divine Aromas and Flavoring
Vanilla grown in Vanuatu is known for its unique flavor and aroma. The beans have a rich, sweet, and powerful vanilla aroma with subtle hints of nutmeg and ginger.  The flavor of Vanuatu vanilla has warm and fruity notes tending towards cocoa and caramel.
Popular Local Dishes in Vanuatu include Laplap, a traditional dish made from grated root vegetables, such as taro or yam, mixed with coconut cream and wrapped in banana leaves. Vanilla is often added to the coconut cream for a sweet and fragrant twist on this classic dish. Fruit salad with a dressing including lime juice, honey and vanilla creates a sweet and tangy sauce that complements the fruit. Coconut Cream Pie is a popular dessert in Vanuatu, and vanilla is often used to add extra flavor to the custard filling.
The Vanilla Bean Rarity Index > Incredibly Rare
The Vanilla Bean Rare Index classifies beans according to their rarity based on location, farmer and vanilla bean type. These Planifolia Vanilla Beans from Aneityum in Vanuatu are extremely rare, grown from a few small growers in remote areas and have limited production per year. Hence they are categorized as Incredibly Rare according to the Native Vanilla Rare Index.
Storage of Vanilla Beans
Vanilla beans should be stored in a cool, dark place in an airtight container, separate from other spices. They should be kept away from heat, moisture, light, or air.
Over time, vanilla will generally lose moisture as it evolves. If you follow the above advice, you will be sure to be able to keep your vanilla beans at their aromatic best for 12 to 18 months, so that your vanilla is still soft when you come to use it.
Planifolia vanilla beans produced in Aneityum in Vanuatu is part of a growing industry, an important contributor to the island's economy and highly prized around the world for their aroma and flavor.
How to Make Vanilla Extract
For more information, check out our more detailed homemade extract guide
here: https://nativevanilla.com/blogs/recipes/how-to-make-vanilla-extract

Vanilla Extract Calculator
Calculate how much vanilla you need to make your extract.
https://nativevanilla.com/blogs/recipes/vanilla-extract-calculator
Vanuatu, Aneityum - Gourmet Vanilla Beans - Grade A
Vanuatu Vanilla Beans
Delivery was very quick! These beans smell amazing, they are soft and very pliable. Can not wait to see the end results of the extract made with them. Thank you Native Vanilla for the availability of such wonderful beans like these along with awesome pricing and fast delivery!!
Vanuatu Vanilla Beans
I received my beautiful beans last week. Super fast shipping! These beans are incredible. They were on average about 8 and a half inches long. Very fragrant and oily. I put them in a variety of Vodka and rum. I will most definitely be ordering these again, along with other varieties I'm wanting. Here's a picture of a few of them. I had already cut the tops off in the picture.
Vanuatu Beans
Wonderful beans, so glad I made this purchase. These will definitely become part of my private stock of extract. Beans are super fragrant and look superb. Now just have to decide on rum or contact!
Vanuatu vanilla beans
Exceptional beans! Very fast shipping, great packaging and the beans were perfect!