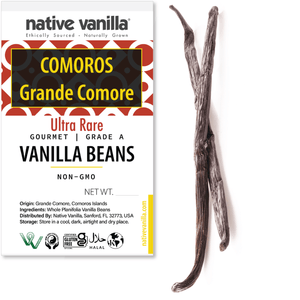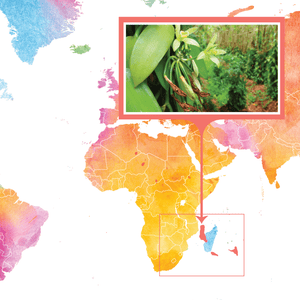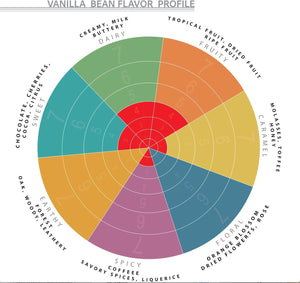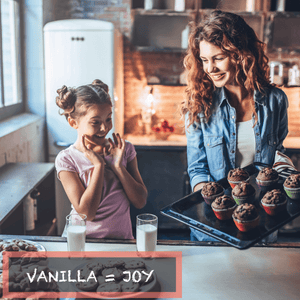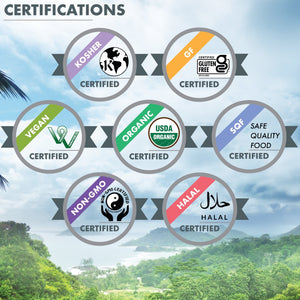 | | |
| --- | --- |
| Bean Origin: | Comoros Islands |
| Region: | Grande Comore |
| Rarity Index: | Ultra Rare |
| Bean Grade: | Gourmet - Grade A |
| Moisture Content: | 28-35% |
| Bean Size: | 5-7 inches | 13-18cm |
| Bean Family: | Vanilla Planifolia |
| Certifications: | Vegan, Gluten Free, Halal, Non-GMO ,Kosher |
| | |
| --- | --- |
| Bean Flavor Profile | |
| Tasting Notes: | creamy vanilla with a hint of caramel and marshmallow. |
| Extract Taste: | creamy vanilla with pronounced marshmallow and chocolate aroma. |
| Recommended Extract Spirit: | Vodka, Rums, Bourbons, Brandy |
| | |
| --- | --- |
| Uses: | Extract Making, Baking, Cooking, Breweries, Cocktails |
| Pairing: | Ice cream, pastries, dark chocolates, hot chocolate, milkshakes, smoothies. |
Welcome to Comoros Islands, Grande Comore!
Imagine hiking up the world's largest active volcano or swimming and snorkeling in clear, turquoise waters! You can do this on Grande Comore, an island that forms part of the Comoros Islands, an archipelago off the east coast of Africa. Grand Comore boasts some of the most beautiful beaches, bustling markets and narrow streets lined with colorful buildings and is also home to a unique blend of African, Arab, and French cultures, which can be seen in the island's music, art, and cuisine.
Grand Comore has volcanic soil rich in minerals, and its warm, humid climate provides ideal growing conditions for ylang-ylang and vanilla bean plantations. It is not sometimes referred to as the Perfume Isles for nothing.
History of Vanilla Cultivation in Comoros
The small island nation of Comoros lies just to the north of the reigning island powerhouse Madagascar.  These vanilla beans are every bit on par with Madagascar. The introduction of vanilla farming in Grande Comore can be traced back to French colonialism in the late 19th century. Today vanilla farming is an important source of income for many families on the island, and the industry supports thousands of jobs.
Madagascar does provide for strong competition. The industry is also vulnerable to natural disasters, such as cyclones and droughts, which can damage the vanilla orchids and reduce yields.
The Perfect Planifolia Bean from Comoros
The Planifolia vanilla beans grown in Grande Comore are characterized by their distinct appearance, aroma, and flavor. The beans are long and slender, with a dark brown color and a slightly oily sheen. The vanilla bean is known for its high moisture content of between 30% and 35%. The beans are over 15 cm in length.
Divine Aromas and Flavoring
The vanilla beans from Comoros have a complex aroma that is floral, sweet, with marshmallow undertones and hints of caramel and spice. The flavor is similarly complex, with notes of buttery vanilla, chocolate, and a hint of bitterness. Great for sugars, salts and powders when dried, in addition to their excellent use in extracts.
In Comoros, vanilla beans are used in a variety of local dishes and desserts. One popular dish is mataba, a savory pastry made with grated cassava leaves, coconut milk, and spices, including vanilla. Another popular dessert is called vanilla banana, which consists of ripe bananas sliced and simmered in a vanilla-infused syrup. The vanilla adds a rich, sweet flavor to the dish, which is often served with whipped cream or ice cream.
In addition to its culinary uses, vanilla is also used in traditional medicine on the island. The local people believe that vanilla has healing properties and can be used to treat a variety of ailments, including stomach pain, fever, and headaches.
The Vanilla Bean Rarity Index > Ultra Rare
The Vanilla Bean Rare Index classifies beans according to their rarity based on location, farmer and vanilla bean type. These Planifolia Vanilla Beans from Comoros are grown by farmers in remote regions and are in limited supply. Hence they are categorized as Ultra Rare on the Vanilla Bean Rare Index.
Storage of Vanilla Beans
Vanilla beans should be stored in a cool, dark place in an airtight container, separate from other spices. They should be kept away from heat, moisture, light, or air.
Over time, vanilla will generally lose moisture as it evolves. If you follow the above advice, you will be sure to be able to keep your vanilla beans at their aromatic best for 12 to 18 months, so that your vanilla is still soft when you come to use it.
In conclusion, the Planifolia vanilla bean plays a significant role in the island's economy and culture. Despite facing challenges, the future of the vanilla industry in Grande Comore remains bright, as long as efforts are made to protect and preserve this valuable resource.
How to Make Vanilla Extract
For more information, check out our more detailed homemade extract guide
here: https://nativevanilla.com/blogs/recipes/how-to-make-vanilla-extract

Vanilla Extract Calculator
Calculate how much vanilla you need to make your extract.
https://nativevanilla.com/blogs/recipes/vanilla-extract-calculator
great beans
These beans were much larger and fresher looking that some much more expensive beans I bought from sprouts.
Flavor
Love this product and was worth the cost
LOVE this vanilla! And great price
I love cutting up this vanilla into smaller pieces and putting in with my coffee (grinds beans fresh every pot) and vanilla like this has been challenging to find on a regular basis for not a ridiculous price. Now I get it on Subscribe & Save and it makes me so happy!
Made the best vanilla extract ever
These beans were perfect for my vanilla extract.
Wonderful Vanilla
I used them in baking and even infused them into cream for homemade ice cream.