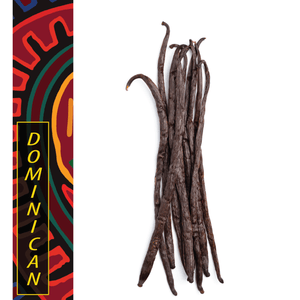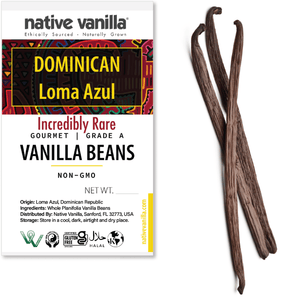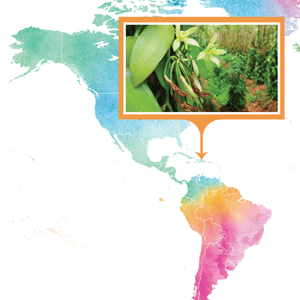 | | |
| --- | --- |
| Bean Origin: | Dominican Republic |
| Region: | Loma Azul |
| Rarity Index: | Incredibly Rare |
| Bean Grade: | Gourmet - Grade A |
| Moisture Content: | 28-35% |
| Bean Size: | 4.5-5.5 inches | 13-15cm |
| Bean Family: | Vanilla Planifolia |
| Certifications: | Vegan, Gluten Free, Halal, Non-GMO ,Kosher |
| | |
| Bean Flavor Profile | |
| Tasting Notes: | rich, creamy, and sweet profile with subtle floral notes |
| Extract Taste: | warm, sweet, floral |
| Recommended Extract Spirit: | Vodka, Rums, Bourbons, Brandy |
| | |
| Uses: | Extract Making, Baking, Cooking, Breweries, Cocktails |
| Pairing: | Ice cream, pastries, dark chocolates and making vanilla extract. |
Welcome to Loma Azul!
Vanilla beans from the Dominican Republic are a prized and sought-after ingredient in the world of culinary arts and perfumery. These beans, which come from the vanilla orchid plant, are known for their unique flavor profile and aromatic qualities. Let's explore the fascinating world of Dominican Republic vanilla beans.
History of Vanilla Cultivation in Dominican Republic
The Dominican Republic is one of the countries in the Caribbean that cultivates vanilla beans. The vanilla orchid, scientifically known as Vanilla planifolia, is the primary source of these beans.
These orchids thrive in the warm and humid tropical climate of the Dominican Republic. The country's diverse landscapes, ranging from lush rainforests to fertile valleys, provide ideal conditions for vanilla cultivation.
Divine Aromas and Flavoring
Dominican Republic vanilla beans are renowned for their distinct flavor and aroma. They are characterized by a rich, creamy, and sweet profile with subtle floral notes.
The aroma of these beans is intoxicating, often described as warm, comforting, and with a hint of caramel or even tobacco. The depth of their scent makes them a favorite among chefs and perfumers alike.
Culinary Uses
Vanilla from the Dominican Republic is highly sought after by chefs and bakers worldwide for its exceptional quality. It is commonly used in both sweet and savory dishes.
In desserts, it enhances the flavor of ice creams, custards, cakes, and pastries. It can also be found in beverages like vanilla-infused cocktails and coffee.
The beans are prized for their ability to impart a unique and complex flavor profile that elevates the overall taste of dishes.
Sustainability and Challenges:
Like many agricultural products, vanilla cultivation in the Dominican Republic faces sustainability challenges. The labor-intensive process of hand-pollination and the vulnerability of vanilla plants to diseases and pests can make cultivation difficult.
Sustainable practices and fair trade initiatives are gaining traction in the Dominican Republic's vanilla industry, helping to improve the livelihoods of local farmers and ensure the long-term availability of this valuable crop.
The Vanilla Bean Rarity Index > Incredibly Rare
The Vanilla Bean Rare Index classifies beans according to their rarity based on location, farmer and vanilla bean type. These Planifolia Vanilla Beans from Dominican Republic are grown by farmers in remote regions and are in limited supply. Hence they are categorized as Incredibly Rare on the Vanilla Bean Rare Index.
In conclusion, vanilla beans from the Dominican Republic are cherished for their unique flavor and aroma, making them a prized ingredient in both culinary and perfumery circles. These beans represent the rich agricultural heritage of the Dominican Republic and continue to captivate the senses of people around the world.
Storage of Vanilla Beans
Vanilla beans should be stored in a cool, dark place in an airtight container, separate from other spices. They should be kept away from heat, moisture, light, or air.
Make Homemade Vanilla Extract
For more information, check out our more detailed homemade extract guide
here: https://nativevanilla.com/blogs/recipes/how-to-make-vanilla-extract

Vanilla Extract Calculator for making extract
Calculate how much vanilla you need to make your extract.
https://nativevanilla.com/blogs/recipes/vanilla-extract-calculator
Dominican Republic, Loma Azul
This is my very first try at making vanilla extract. The beans smell wonderful!!! It reminds me of my grandfather smoking his special blend of tobacco in his pipe. What memories it invoked. I cannot wait until I will be able to taste. (While making the extract, the smell on my hands was delightful. I didn't want to wash my hands.)