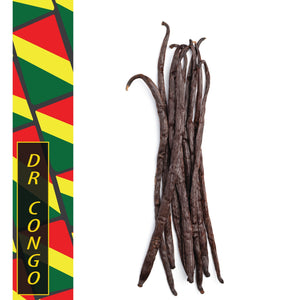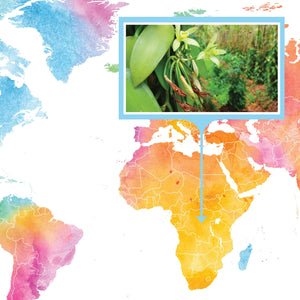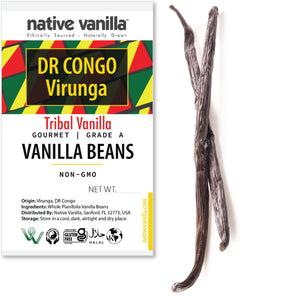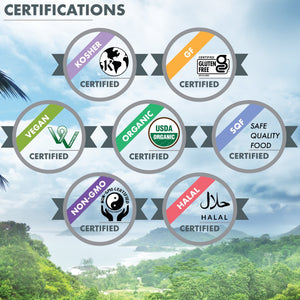 | | |
| --- | --- |
| Bean Origin: | DR Congo |
| Region: | Virunga |
| Rarity Index: | Tribal Vanilla |
| Bean Grade: | Gourmet - Grade A |
| Moisture Content: | 28-35% |
| Bean Size: | 5-7 inches | 13-18cm |
| Bean Family: | Vanilla Planifolia |
| Certifications: | Vegan, Gluten Free, Halal, Non-GMO ,Kosher |
| | |
| --- | --- |
| Bean Flavor Profile | |
| Tasting Notes: | classic, fruity, earthy vanilla |
| Extract Taste: | bold, earthy vanilla with hints of figs |
| Recommended Extract Spirit: | Vodka, Rums, Bourbons, Brandy |
| | |
| --- | --- |
| Uses: | Extract Making, Baking, Cooking, Breweries, Cocktails |
| Pairing: | Pastry creams, fruit pies and sauces, smoothies, shakes, custards, puddings, yogurt, ice cream |
Welcome to Virunga in the Democratic Republic of Congo
If you loved the movie "Gorillas in the Mist", you are absolutely going to want to visit Virunga. It is home to the endangered mountain gorillas, the world's largest lava lake and one of the world's oldest ethnic groups in Africa. Not to mention 700 species of birds, 218 species of mammals, and 109 species of reptiles. The region is also home to several endemic species, including the Okapi, a rare forest giraffe.
In addition, Virunga is also known for its high-quality coffee and vanilla production.
Vanilla Cultivation in Virunga
The history of Planifolia Vanilla bean industry in Virunga dates back to the 1950s when Belgian colonizers introduced vanilla cultivation in the area. Vanilla farming became a popular industry in the region, but due to political instability and conflict, production levels declined in the 1990s. In recent years, there has been a resurgence in the industry, and many small-scale farmers are now growing vanilla beans as a cash crop.
The vanilla bean industry in Virunga provides employment and income for many farmers in the area, which helps to alleviate poverty. However, lack of infrastructure has led to a reliance on middlemen who often pay low prices for the beans, resulting in low incomes for farmers. Additionally, the region has experienced political instability and conflict, which has made it difficult for farmers to access markets outside the region. Several organizations and initiatives such as the Virunga Alliance have been established to provide support.
The Planifolia Bean from Virunga
In terms of appearance, the Planifolia Vanilla bean grown in Virunga is long and slender, with a dark brown color and a slightly oily surface. They are over 15 cm long. The moisture content of the beans is critical, and they must be carefully monitored during the curing process to ensure that they reach the ideal level of 25 to 30 percent.
Divine Aromas and Flavoring
The Virunga Congo vanilla bean possesses a unique taste and aroma like no other. The aroma is intense, with a sweet and floral scent of vanilla and then later you will notice an earthy hint of figs or perhaps even dates. The flavor is complex, with notes of caramel, chocolate, and a hint of spice.
While vanilla beans may not be a traditional ingredient in Virunga cuisine, they are a delicious and versatile ingredient that can be used to add flavor to a range of dishes and desserts as well as coffees and cocktails. The unusual flavor profile of the vanilla beans grown in Virunga, make them a popular choice for chefs and food manufacturers looking for high-quality vanilla with a complex flavor profile.
The Vanilla Bean Rarity Index > Tribal Vanilla
The Vanilla Bean Rare Index classifies beans according to their rarity based on location, farmer and vanilla bean type. These Planifolia Vanilla Beans from Virunga in DRC are grown by a few small growers and have extremely limited production per year. Hence they are categorized as the rarest of all vanilla beans and classified as Tribal Vanilla.
Storage of Vanilla Beans
Vanilla beans should be stored in a cool, dark place in an airtight container, separate from other spices. They should be kept away from heat, moisture, light, or air.
Over time, vanilla will generally lose moisture as it evolves. If you follow the above advice, you will be sure to be able to keep your vanilla beans at their aromatic best for 12 to 18 months, so that your vanilla is still soft when you come to use it.
In conclusion, Planifolia Vanilla Beans in Virunga are highly prized by chefs and food manufacturers for their unique and complex character.
How to Make Vanilla Extract
For more information, check out our more detailed homemade extract guide
here: https://nativevanilla.com/blogs/recipes/how-to-make-vanilla-extract

Vanilla Extract Calculator
Calculate how much vanilla you need to make your extract.
https://nativevanilla.com/blogs/recipes/vanilla-extract-calculator
Wow!
These beans smell heavenly. Native Vanilla never disappoints!
Wonderfully Aromatic Vanilla
I bought this to further my vanilla extract making.
Sealed in the package, I could still smell the rich vanilla! Looking forward to my "pumped up" extract!
DR Congo, Virunga - Gourmet Vanilla Beans - Grade A
Vanilla Extract here we come
Look forward to using for making my vanilla extract
Exceptional
So fresh, plump and moist
Can smell it from the sealed package
Highly aromatic