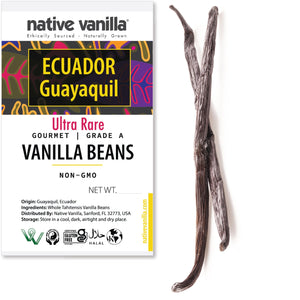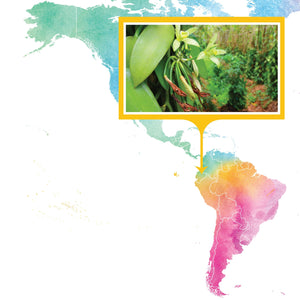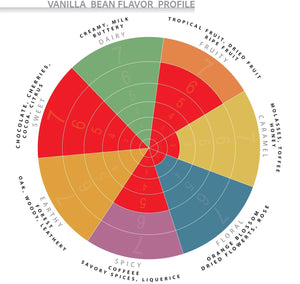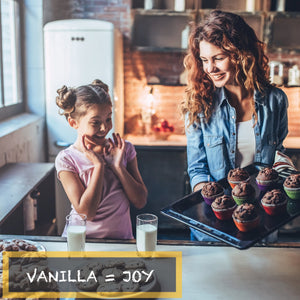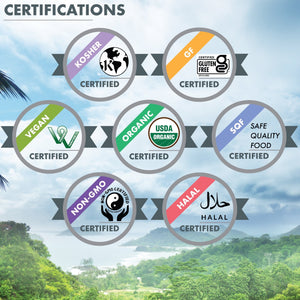 | | |
| --- | --- |
| Bean Origin: | Ecuador |
| Region: | Guayaquil |
| Rarity Index: | Ultra Rare |
| Bean Grade: | Gourmet - Grade A |
| Moisture Content: | 28-35% |
| Bean Size: | 5-7 inches | 13-18cm |
| Bean Family: | Vanilla Tahitensis |
| Certifications: | Vegan, Gluten Free, Halal, Non-GMO ,Kosher |
Bean Flavor Profile
Tasting Notes:
Full-bodied, floral, spicy, notes of stone fruits such as cherry, plum and apricot

 

Extract Taste:
sweet floral vanilla with hints of apricot, cherry and plums
Recommended Extract Spirit:
Vodka, Rums, Bourbons, Brandy
| | |
| --- | --- |
| Uses: | Extract Making, Baking, Cooking, Breweries, Cocktails |
| Pairing: | Ice cream, custard, cakes, cookies, sweet sauces, and crème brûlée. |
Welcome to Guayaquil, Ecuador
Ecuador, named after the equator, is famous for incredible wildlife and natural beauty. Think stunning mountain peaks, beautiful valleys, and a vibrant indigenous culture that reside in the Andes Mountains. Guayaquil, the largest port city in Ecuador, serves as a gateway to the Galapagos Islands and is known for its music, dance and festivals. It's also the place where tantalizing Tahitensis Vanilla is grown!
Vanilla Cultivation in Guayaquil
While the majority of vanilla is produced in Madagascar, there is also a significant vanilla industry in Guayaquil, Ecuador. The region is known for its tropical climate, fertile soil, and abundant rainfall, all of which make it an ideal location for growing vanilla. Small-scale farmers grow the crop and export it to major markets in North America and Europe. These farmers in Guayaquil are facing a number of challenges including climate change, the demand for manual labor and strong competition from larger producers in other parts of the world.
Despite these challenges, the vanilla industry in Ecuador continues to thrive. The region's farmers are known for their commitment to sustainability and the government of Ecuador has also chosen to support the vanilla industry  through financing and training as well as  investment  in infrastructure to help improve transportation and distribution networks.
The Tantalizing Tahitensis Bean from Ecuador
Tahitensis vanilla beans are slightly shorter than other vanilla varieties, around 12-15 cm long and with a moisture content of between 30 and 35%. The beans are also darker in color. Tahitensis vanilla beans are graded based on their length, moisture content, and appearance.
Divine Aromas and Flavoring
Tahitensis vanilla beans are known for their unique flavor and aroma profile. The beans have a fruity, floral, and sweet aroma with notes of cherry, caramel, and anise. The flavor is also fruity and floral, with a creamy and slightly smoky finish. Tahitensis vanilla beans have a lower vanillin content than other vanilla varieties, which gives them a more complex flavor profile.
Tahitensis vanilla beans are used in a variety of Ecuadorian dishes, from desserts to savory dishes.  Helado de Paila is a traditional hand-churned ice cream that is made from a mixture of fresh fruit, cream, sugar and vanilla using a large copper pot called a "paila." Another popular dish is Arroz con Leche, a rice pudding made with milk, sugar, cinnamon, cloves and vanilla. Savory dishes that use vanilla include chicken or fish dishes that are marinated with vanilla and other spices.
The Vanilla Bean Rarity Index > Ultra Rare
The Vanilla Bean Rare Index classifies beans according to their rarity based on location, farmer and vanilla bean type. These Tahitensis Vanilla Beans from  Ecuador are hard to find and in limited supply and therefore categorized as Ultra Rare.
Storage of Vanilla Beans
Vanilla beans should be stored in a cool, dark place in an airtight container, separate from other spices. They should be kept away from heat, moisture, light, or air.
Over time, vanilla will generally lose moisture as it evolves. If you follow the above advice, you will be sure to be able to keep your vanilla beans at their aromatic best for 12 to 18 months, so that your vanilla is still soft when you come to use it.
Overall, the Tahitensis Vanilla Bean industry in Guayaquil, Ecuador is an important source of income for many local farmers and businesses, and it is likely to continue to grow in the coming years as demand for high-quality vanilla continues to increase around the world.
How to Make Vanilla Extract
For more information, check out our more detailed homemade extract guide
here: https://nativevanilla.com/blogs/recipes/how-to-make-vanilla-extract

Vanilla Extract Calculator
Calculate how much vanilla you need to make your extract.
https://nativevanilla.com/blogs/recipes/vanilla-extract-calculator
very responsive
I ordered my beans and followed them via usps tracking. They became lost in usps other world, but I contacted the company and that very day they sent out a package of replacement beans. I recieved them today. I make vanilla extract with my beans and I have to say these are the best I have purchased to date. They are moist, smell wonderful, are easy to cut open and have an abundant amount inside the bean to make several batches of extract. I will be a return customer, not only because of your product, but because of your prompt response to my email.
Good quality
The beans are always fresh, good quality and reasonably priced.
Fragrant and fresh
Packaging was sealed and airtight. Beans were in excellent condition. They were very fragrant and fresh.
Vanilla Bean Cheesecake
I was hesitant on purchasing because I wasn't sure how fresh the product would be and for the price compared to it being bought in a store. I am so glad I did! The flavor and freshness of the seeds were excellent, better than what I'd buy in the store