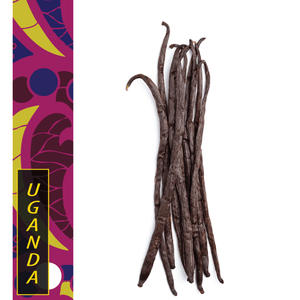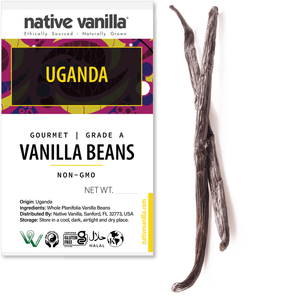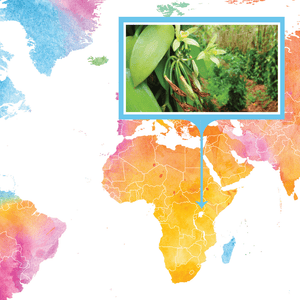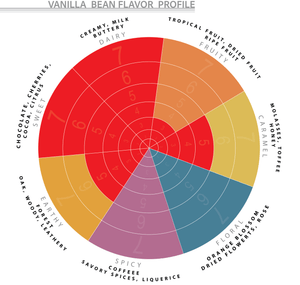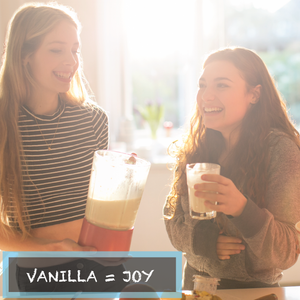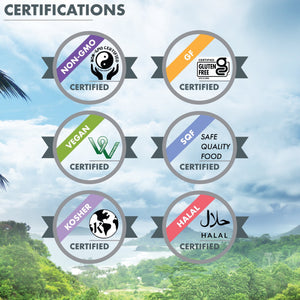 | | |
| --- | --- |
| Bean Origin: | Ugandan |
| Bean Grade: | Gourmet - Grade A |
| Moisture Content: | 28-35% |
| Bean Size: | 5-7 inches | 13-18cm |
| Bean Family: | Vanilla Planifolia |
| Certifications: | Vegan, Gluten Free, Halal, Non-GMO ,Kosher |
| | |
| --- | --- |
| Bean Flavor Profile | |
| Tasting Notes: | earthy, wooded, creamy and extremely bold in flavor. |
| Extract Taste: | bold vanilla, subtle hints of fig. |
| Recommended Extract Spirit: | Vodka, Rums, Bourbons, Brandy |
| | |
| --- | --- |
| Uses: | Extract Making, Baking, Cooking, Breweries, Cocktails |
| Pairing: | Perfect for desserts such as chocolate truffles, ice cream, pastries, dark chocolates along with muffins, tarts and fruit pies. |
Welcome to Uganda!

Have you ever wanted to place one foot in the Northern Hemisphere and the other in the Southern Hemisphere? Or perhaps see a family of mountain gorillas in their natural habitat? If so, then you must visit Uganda, home to the source of the Nile River, the longest river in the world. It has abundant wildlife including a wide variety of elephants, lions, leopards, giraffes, zebras, and many species of primates. Uganda also has over 60 different ethnic groups, each with its own unique culture and traditions.
But did you know that vanilla is also cultivated in Uganda, producing some of the best quality vanilla beans in the world.
Vanilla Cultivation in Uganda
Planifolia vanilla bean farming in Uganda has a relatively short history, with the first commercial vanilla plantations established in the late 1990s. Apart from Uganda's ideal growing condition of warm temperatures and high humidity, Uganda is also unique from other vanilla growing regions around the world. It has two dry seasons per year which means that the vanilla vines are given two chances to bloom and thus, two chances for pollination. For the farmers, this means more stable revenue whilst for consumers, fresher vanilla beans are available year-round.
Despite the industry's importance and huge potential to Uganda's vanilla farmers, vanilla quality has often been compromised by immature harvesting, poor handling, processing and storage issues as well as theft. Their government has therefore chosen to collaborate with a number of partners to develop the vanilla value chain and increase security in areas growing vanilla. Uganda has adopted best practices from other vanilla producing countries in a bid to promote their global position as a leading source of high quality vanilla.
The Special Planifolia Bean from Uganda
The planifolia vanilla bean is typically long and narrow, with a dark brown or black color and a slightly oily surface. These pods range in length from 13-18 cm. They have a smooth, oily surface and their moisture content is between 28 and 35%.  You'll be amazed at the number of seeds in fresh Ugandan beans and their thick, sticky consistency. The moment you slice open a pod, you'll pick up its deep woody notes, with hints of leather, dried fruit and berries. They're supple and plump and have no imperfections.
Divine Aromas and Flavoring
The soil and climate of Uganda provide an environment for the beans that are known for their high vanillin content. This results in a bold and earthy vanilla bean flavor with hints of figs and raisins. The aroma is distinct, being smooth, sweet and floral with notes of caramel and cream.
Vanilla is not a commonly used ingredient in traditional Ugandan cuisine, but it is occasionally used in some modern cooking and desserts. Local dishes in Uganda that include vanilla are vanilla tea, a popular drink in Uganda, made by steeping black tea leaves with a vanilla bean and a touch of honey or sugar. It has a sweet, creamy flavor and is often enjoyed in the morning or as an afternoon pick-me-up. Vanilla custard served cold with fresh fruit as well as vanilla ice cream are both widely eaten desserts in Uganda.
Storage of Vanilla Beans
Vanilla beans should be stored in a cool, dark place in an airtight container, separate from other spices. They should be kept away from heat, moisture, light, or air.
Over time, vanilla will generally lose moisture as it evolves. If you follow the above advice, you will be sure to be able to keep your vanilla beans at their aromatic best for 12 to 18 months, so that your vanilla is still soft when you come to use it.
Planifolia vanilla bean farming in Uganda is an important aspect of the local economy and culture. The high-quality beans produced here are truly something special sought after by chefs and food manufacturers world wide.
How to Make Vanilla Extract
For more information, check out our more detailed homemade extract guide
here: https://nativevanilla.com/blogs/recipes/how-to-make-vanilla-extract

Vanilla Extract Calculator
Calculate how much vanilla you need to make your extract.
https://nativevanilla.com/blogs/recipes/vanilla-extract-calculator
Smells heavenly
Beans are so nice, plump, and aromatic. I've already started my own vanilla extract. Can't wait to bake cookies and try the vanilla sugar.
These beans were awesome nice plump and ready to make me an fantastic vanilla extract.
Best vanilla EVER
Amazed at how intense the flavor is of these vanilla beans. Absolutely phenomenal flavor
Amazing!!
My order came supper fast and the the beans were beyond amazing. The smell alone was out of this world. So happy with my purchase and will be getting more.