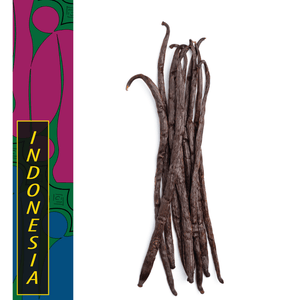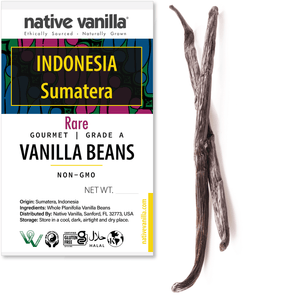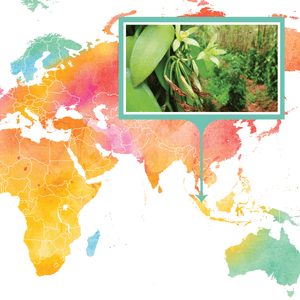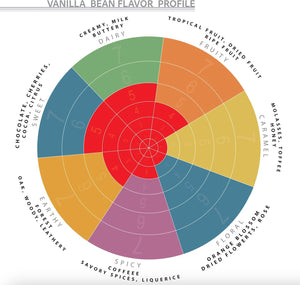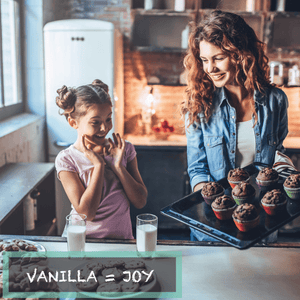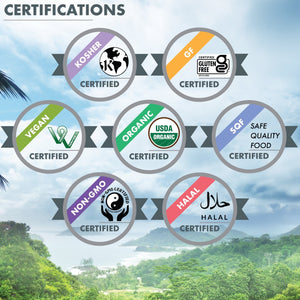 | | |
| --- | --- |
| Bean Origin: | Indonesia |
| Region: | Sumatera |
| Rarity Index: | Rare |
| Bean Grade: | Gourmet - Grade A |
| Moisture Content: | 28-35% |
| Bean Size: | 5-7 inches | 13-18cm |
| Bean Family: | Vanilla Planifolia |
| Certifications: | Vegan, Gluten Free, Halal, Non-GMO ,Kosher |
| | |
| --- | --- |
| Bean Flavor Profile | |
| Tasting Notes: | sweet and earthy with notes of mocha and dried tropical fruits. |
| Extract Taste: | rich, strong vanilla, fruity, hints of mocha. |
| Recommended Extract Spirit: | Vodka, Rums, Bourbons, Brandy |
| | |
| --- | --- |
| Uses: | Extract Making, Baking, Cooking, Breweries, Cocktails |
| Pairing: | Great for baking, custards, puddings, ice cream, and making vanilla extract |
Welcome to Sumatera, Indonesia
Sumatera is one of the largest islands in Indonesia and is known for many unique and endangered species of flora and fauna found only on the island. Sumatera is also home to several active volcanoes and also a few distinct ethnic groups, each with its own unique culture and traditions.  The island's location near the equator provides a warm and humid climate that is ideal for growing coffee and vanilla beans.
History of Vanilla Cultivation in Sumatera
Indonesia is the world's second-largest producer of vanilla beans after Madagascar. The vanilla bean farming industry in Sumatera has a long history, dating back to the Dutch colonial era when the Dutch introduced vanilla cultivation to the island. Despite vanilla bean farming being a challenging and labor-intensive process, it is an important source of income for many small-scale farmers.
The Stunning Sumatera Planifolia Bean
The Planifolia vanilla bean grown in Sumatera is known for its high moisture content of between 30% and 35%, which gives it a plump appearance and a distinct aroma. The beans are over 15cm in length and oily looking, making them highly prized in the international market. The color of the Planifolia vanilla bean from Sumatera is dark brown, almost black, which is a sign of its high quality.
Divine Aromas and Flavoring
The differing soil conditions across Indonesia result in an equally diverse vanilla offering. Hence an Indonesian vanilla bean grown in one region is quite different from an Indonesian vanilla bean grown in another region.
The aroma and flavor of the Planifolia vanilla bean from Sumatera are rich and complex, with notes of caramel, chocolate, and floral undertones. The flavor is sweet and creamy, with a slight smoky taste. These unique flavor profiles make Sumatera vanilla beans highly sought after by chefs and food manufacturers around the world.
In Indonesia, the vanilla bean is used in both sweet and savory dishes. One popular sweet dish is Es Campur, a shaved ice dessert that features sweet syrup, fruit, and condensed milk, topped with a sprinkle of vanilla beans. Another popular dish is Rendang, a savory meat dish made with coconut milk and spices, which is flavored with vanilla beans to give it a sweet and fragrant taste.
The Vanilla Bean Rarity Index > Rare
The Vanilla Bean Rare Index classifies beans according to their rarity based on location, farmer and vanilla bean type. These Planifolia Vanilla Beans from Sumatera in Indonesia are grown by farmers in semi-remote regions but are more readily available than other vanilla grown elsewhere. Hence they are categorized as Rare on the Vanilla Bean Rare Index.
Storage of Vanilla Beans
Vanilla beans should be stored in a cool, dark place in an airtight container, separate from other spices. They should be kept away from heat, moisture, light, or air.
Over time, vanilla will generally lose moisture as it evolves. If you follow the above advice, you will be sure to be able to keep your vanilla beans at their aromatic best for 12 to 18 months, so that your vanilla is still soft when you come to use it.
In conclusion, the Planifolia Vanilla Bean industry in Sumatera, Indonesia, is an important part of the island's agricultural sector. The vanilla beans produced in Sumatera are known for their rich and complex flavor profile and are prized for their flavor and aroma by chefs and food manufacturers worldwide.
How to Make Vanilla Extract
For more information, check out our more detailed homemade extract guide
here: https://nativevanilla.com/blogs/recipes/how-to-make-vanilla-extract

Vanilla Extract Calculator
Calculate how much vanilla you need to make your extract.
https://nativevanilla.com/blogs/recipes/vanilla-extract-calculator
Good beans.
I got these to make a vanilla pie crust. I only needed 3 so used the rest for extract. Way better than the ones from the store.
Delicious
Delicious and aromatic. Perfect for vanilla extract.
Vanilla Extract
So I am using this to make Vanilla Extract. Did some research and so far, very pleased with what I have received. Cannot wait (hahahah 6 months) to find out.
great beans! got my vanilla in the making now.
excellent fresh, fragrant beans. need more. making vanilla out of rum this batch, next one will be with bourbon.
Great product, I'll buy again!
Loved the product and the price. Using to make my own vanilla extract and vanilla infused vodka!