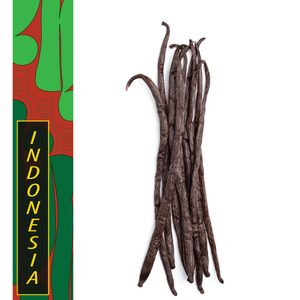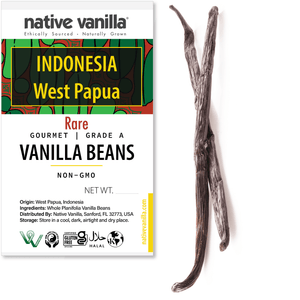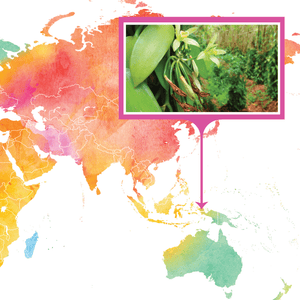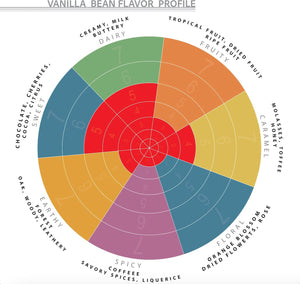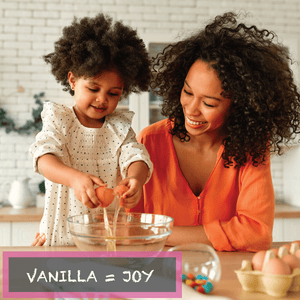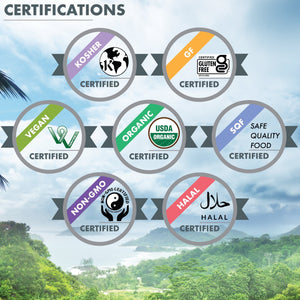 | | |
| --- | --- |
| Bean Origin: | Indonesia |
| Region: | West Papua |
| Rarity Index: | Rare |
| Bean Grade: | Gourmet - Grade A |
| Moisture Content: | 28-35% |
| Bean Size: | 5-7 inches | 13-18cm |
| Bean Family: | Vanilla Planifolia |
| Certifications: | Vegan, Gluten Free, Halal, Non-GMO ,Kosher |
| | |
| --- | --- |
| Bean Flavor Profile | |
| Tasting Notes: | hints of dark chocolate and caramel. |
| Extract Taste: | bold and rich with hints of dark chocolate and caramel. |
| Recommended Extract Spirit: | Vodka, Rums, Bourbons, Brandy |
| | |
| --- | --- |
| Uses: | Extract Making, Baking, Cooking, Breweries, Cocktails |
| Pairing: | Great for baking, custards, puddings, ice cream, and making vanilla extract. |
Welcome to West Papua in Indonesia
Untouched West Papua is remote, rich in natural resources, home to more than 250 distinct ethnic groups and the world's largest butterfly, the Queen Alexandra's birdwing.
But did you also know that West Papua produces top quality vanilla beans to the world!
History of Vanilla Cultivation in West Papua
The history of the Planifolia Vanilla bean industry in West Papua dates back to the early 1900s when the Dutch introduced the crop to the region. Since then, vanilla cultivation has become an important part of the region's agriculture, with West Papua producing some of the highest-quality vanilla beans in the world.
One of the unique characteristics of West Papua's Planifolia Vanilla bean industry is its emphasis on organic and sustainable farming practices. Many of the local farmers use traditional techniques passed down through generations to cultivate the vanilla plants without the use of chemicals or synthetic fertilizers.
However, the industry also faces several challenges, including limited infrastructure, lack of access to markets, and the high cost of production. Many farmers struggle to find buyers for their vanilla beans, and the market price for vanilla can be volatile, making it difficult to plan and invest in the crop.
The Wonderful Planifolia Bean from West Papua
In terms of appearance, the Planifolia Vanilla beans grown in West Papua are long, slender, and dark brown. They have a slightly oily surface and are flexible to the touch. This vanilla bean is known for its high moisture content of between 30% and 35%, which gives it a plump appearance. The beans are over 15 cm in length and oily looking, making them highly prized in the international market.
Divine Aromas and Flavoring
The differing soil conditions across Indonesia result in an equally diverse vanilla offering. Hence an Indonesian vanilla bean grown in one region is quite different from an Indonesian vanilla bean grown in another region.
The aroma and flavor of the West Papua vanilla bean are rich and complex, with hints of caramel, chocolate, and floral notes. The beans are highly prized by gourmet chefs and food manufacturers for their unique flavor profile and high vanillin content.
In West Papua, vanilla is a popular ingredient in both sweet and savory dishes. It is commonly used to flavor cakes, cookies, and desserts, as well as in sauces and marinades for meat and seafood dishes. Some popular local dishes that use vanilla include bubur sagu (sago porridge), grilled fish with vanilla sauce, and banana fritters with vanilla syrup.
The Vanilla Bean Rarity Index > Rare
The Vanilla Bean Rare Index classifies beans according to their rarity based on location, farmer and vanilla bean type. These Planifolia Vanilla Beans from West Papua in Indonesia are grown by farmers in semi-remote regions but are more readily available than other vanilla grown elsewhere. Hence they are categorized as Rare on the Vanilla Bean Rare Index.
Storage of Vanilla Beans
Vanilla beans should be stored in a cool, dark place in an airtight container, separate from other spices. They should be kept away from heat, moisture, light, or air.
Over time, vanilla will generally lose moisture as it evolves. If you follow the above advice, you will be sure to be able to keep your vanilla beans at their aromatic best for 12 to 18 months, so that your vanilla is still soft when you come to use it.
In conclusion, the farming of the Planifolia vanilla bean in West Papua is a vital component of the region's economy. Despite the challenges faced by the industry, West Papua continues to produce some of the highest-quality vanilla beans in the world, known for their rich flavor and aroma, and is a unique and essential part of the culinary culture of the region.
How to Make Vanilla Extract
For more information, check out our more detailed homemade extract guide
here: https://nativevanilla.com/blogs/recipes/how-to-make-vanilla-extract

Vanilla Extract Calculator
Calculate how much vanilla you need to make your extract.
https://nativevanilla.com/blogs/recipes/vanilla-extract-calculator
Always good quality beans
This is the second time I've orderd from them and I will definitely buy again! The beans are so fragrant, fresh and brings so much flavor to whatever you make. Bought Thahiti this time, but next time I think I'll try some of the other ones♡
Exactly what I wanted!
It was easy to split the bean because of the freshness. I purchased the package to make my own vanilla extract.
Company stands behind their product.
They arrived quickly in a vacuum packed envelope. I had a slight problem with beans and company took care of it ASAP. Thank you
Will buy again
I'll will be continuing buying vanilla beans on here and this are really good.
Good value
The vanilla beans are fresh and flavorful. We use them with vodka to make our own vanilla. So much better than store bought!