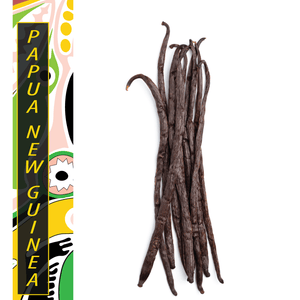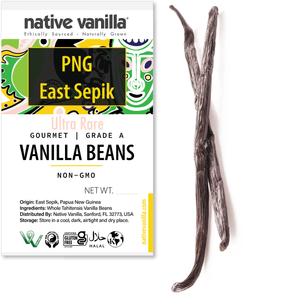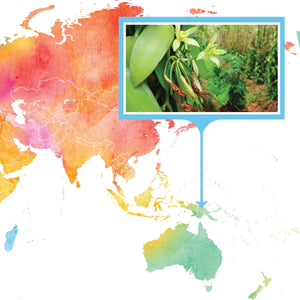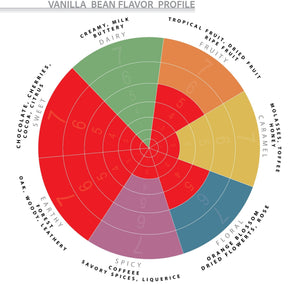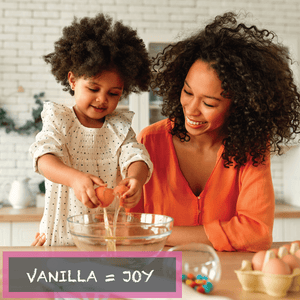 | | |
| --- | --- |
| Bean Origin: | Papua New Guinea |
| Region: | East Sepik |
| Rarity Index: | Ultra Rare |
| Bean Grade: | Gourmet - Grade A |
| Moisture Content: | 28-35% |
| Bean Size: | 5-7 inches | 13-18cm |
| Bean Family: | Vanilla Tahitensis |
| Certifications: | Vegan, Gluten Free, Halal, Non-GMO ,Kosher |
Bean Flavor Profile
Tasting Notes:
heavy and well-balanced sweet cream butter, smooth, flavor

 

Extract Taste:
buttery, rich, sweet vanilla
Recommended Extract Spirit:
Vodka, Rums, Bourbons, Brandy
| | |
| --- | --- |
| Uses: | Extract Making, Baking, Cooking, Breweries, Cocktails |
| Pairing: | Works well with apples, fish, ice cream, melon, milk, peaches, pears and strawberries. |
Welcome to East Sepik!
If you are an adventurous traveler, interested in exploring off-the-beaten-path destinations, then East Sepik needs to be on your bucket list! It is not easy to get to, due to poor infrastructure, rugged terrain and also the potential natural hazards of floods, landslides and earthquakes. But the effort is oh, so worth it! Witness traditional dances and ceremonies which often take place in a Haus Tambaran, a "spirit house", attend the Crocodile Festival and explore the Sepik River which is over 1,000km long, as well as its vast wetlands in a traditional boat. 
The East Sepik is also a developing vanilla-growing region in Papua New Guinea, highly sought after by chefs and foodies around the world. 
History of Vanilla Cultivation in East Sepik
The Sepik region has a uniquely favorable environment for vanilla cultivation as well as a longstanding tradition in vanilla production. Thousands of rural households rely on vanilla to support their livelihood. The UN'S Food and Agriculture Organisation through a European Union-funded project has chosen to provide 250,000 healthy vanilla vines to the farmers in the Sepik regions. Their intention is to offer tools to the local farmers to improve existing vanilla acreage, adopt climate-smart practices, and to increase their knowledge in processing, packaging and marketing of vanilla products. In March 2023, the FAO had already provided 60,000 vines of this allocation. 
The Ultra Rare Tahitensis Bean from East Sepik
Vanilla beans from East Sepik, Papua New Guinea are known for their rich and intense flavor. The vanilla beans are grown in the fertile soil of the East Sepik region, where the warm, tropical climate provides the perfect conditions for vanilla to thrive.
In recent years, the demand for vanilla beans from East Sepik has increased significantly, as more and more people have discovered the unique flavor that they offer. However, due to the limited supply and the labor-intensive process of growing and harvesting vanilla beans, they can be difficult to get.
These East Sepik Gourmet Tahitian Vanilla beans are hand selected from the finest curing processes by our micro farmers in PNG's East Sepik province and are certified Grade A, premium quality vanilla beans. Grade A vanilla beans are visually attractive and can be used as a feature ingredient in gourmet cuisine. These beans add a smooth rich background taste- use to balance sauces for shellfish, chicken, and veal or soften dairy flavors in desserts. Add to a mug of hot chocolate, coffee, or tea for added richness. The Tahitian Vanilla Bean grown in the East Sepik region is usually around 13-18 cm long and dark brown in color. This vanilla bean is known for its high moisture content of between 28% and 35%. 
Divine Aromas and Flavoring
The Tahitian vanilla bean from PNG is known for their sweet, flowery and fruity aroma. The flavor can be described as buttery and smooth carrying subtle notes of caramel, chocolate and cherries.
The Sepik region in Papua New Guinea has a rich culinary tradition that incorporates local ingredients such as fish, yams, and coconut milk. While vanilla beans are not a traditional ingredient in Sepik cuisine, they may be used in some modern interpretations of local dishes. Sago pancakes are served with coconut milk and sugar and may be flavored with vanilla or other spices.  Yams with coconut cream potentially flavored with vanilla could provide a sweet and aromatic flavor to the dish.
The Vanilla Bean Rarity Index > Ultra Rare
The Vanilla Bean Rare Index classifies beans according to their rarity based on location, farmer, and vanilla bean type. These Tahitensis Vanilla Beans from East Sepik are grown from a single region by farmers in very remote areas. According to the Vanilla Bean Rarity Index they are classified as Ultra Rare Vanilla.
Storage of Vanilla Beans
Store the fresh vanilla beans in a tightly sealed airtight container, preferably a glass jar. Keep them away from heat and in a dark place such as a pantry or dark cabinet. Do not refrigerate the beans because this can cause them to mold. Once you split the vanilla pods open with a knife or kitchen scissors and scrape out the vanilla seeds, put the leftover pods in sugar to make vanilla sugar.
Overall, if you're looking for a premium vanilla bean with a unique and complex flavor, East Sepik vanilla beans are definitely worth considering.
How to Make Vanilla Extract
For more information, check out our more detailed homemade extract guide
here: https://nativevanilla.com/blogs/recipes/how-to-make-vanilla-extract

Vanilla Extract Calculator
Calculate how much vanilla you need to make your extract.
https://nativevanilla.com/blogs/recipes/vanilla-extract-calculator
Tahitian Gourmet Vanilla Beans - Grade A
Better Beans
I bought small quantities from Native Vanilla and another large Internet seller and the Native Vanilla beans were far superior. While as an agricultural product variation is natural, the Native Vanilla beans were more plump, more consistent in size, and none of the Native Vanilla beans were skinny, shriveled and dry. I bought a half pound based on my sample buy and was very happy with them. Most went to vanilla extract with 100 proof Rhum Agricole as the solvent, and the balance to softening well aged Bourbon whiskey.
TAHITIAN GOURMET VANILLA BEANS - GRADE A
I am a returning customer and very pleased once again with my recent "beans" purchase. I make my own vanilla extract, the quality and flavor of Native Vanilla beans is exceptional, and my extract is delicious. In addition, I am committed to businesses that nourish local farmers, practice safe work ethic and offer fair wages. Thank you
Tahitian
I have ordered from NV many times, have always received quality beans in great packaging. I made both vanilla extract and vanilla bean paste from Tahitian beans. Both are excellent for anything I am baking.
TAHITIAN GOURMET VANILLA BEANS
Arrived in a compostable bag-very cool! Making vanilla extract. Can't wait to taste in year! Thank you!!