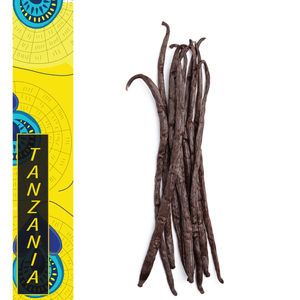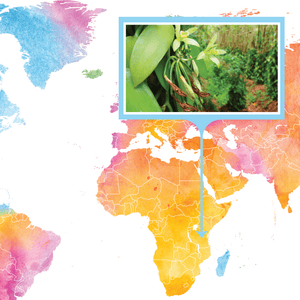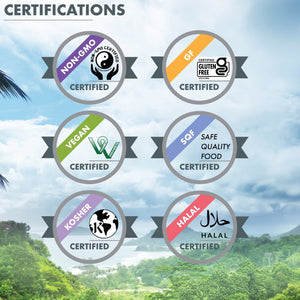 Bean Origin:
Tanzania
Region:
Kilimanjaro

Rarity Index:

I

ncredibly Rare

Bean Grade:
Gourmet - Grade A
Moisture Content:
30-35%
Bean Size:
5-7 inches | 13-18cm
Bean Family:
Vanilla Planifolia
Certifications:
Vegan, Gluten Free, Halal, Non-GMO ,Kosher
| | |
| --- | --- |
| Bean Flavor Profile | |
| Tasting Notes: | melted butter and brown sugar with a light chocolate undertone. |
| Extract Taste: | deep creamy vanilla aroma with subtle notes of cacao, buttery. |
| Recommended Extract Spirit: | Vodka, Rums, Bourbons, Brandy |
| | |
| --- | --- |
| Uses: | Extract Making, Baking, Cooking, Breweries, Cocktails |
| Pairing: | Ice cream, cakes, pastries, sauces, stews, vanilla extract and paste. |
Welcome to Kilimanjaro in Tanzania
Ever wanted to climb Africa's tallest mountain, visit the Maasai people, a pastoralist tribe with a unique culture and way of life or perhaps even view elephants, lions, zebras and giraffes up close and personal? Well, if this is you, then Kilimanjaro is the place that you need to get to. It is home to several national parks, including Kilimanjaro National Park, Arusha National Park, and Serengeti National Park, a safari mecca and is famous for some of the world's best Arabica coffee beans.
But did you know that Kilimanjaro is also known for its vanilla farming, with the region producing some of the best quality vanilla beans in the world. The beans have a unique flavor and aroma that is highly sought after by chefs and food enthusiasts.
Vanilla Cultivation in Kilimanjaro
Vanilla cultivation is a very young industry in Tanzania. Farmers in the Kilimanjaro area in Tanzania, chose to turn their hand to vanilla to offset their losses they frequently suffered due to poor yields from growing traditional cash crops like coffee. According to Tanzania's Agriculture Ministry, vanilla production is increasing significantly.
The region's favorable climate, with warm temperatures and abundant rainfall, creates perfect conditions for vanilla cultivation. The area's volcanic soils, combined with high altitude, provide unique flavor characteristics to the vanilla beans grown here.
In Kilimanjaro, vanilla farming is typically carried out by smallholder farmers who cultivate the beans on small plots of land. These farmers use traditional methods of cultivation, such as hand pollination and sun-drying, to produce high-quality beans. The vanilla beans are harvested when they are fully ripe, and the curing process can take up to several weeks.
The Planifolia Bean from Kilimanjaro
Planifolia vanilla beans from Kilimanjaro are of the highest quality, plump with a high vanillin content and dark brown in color. These pods range in length from 13-18 cm. They have a smooth, oily surface and their moisture content is between 30 and 35%.
Divine Aromas and Flavoring
The African bean from Kilimanjaro possesses a unique taste and aroma like no other. The aroma is exceptionally creamy with hints of cacao. The flavor is buttery smooth, rich and sweet.
Vanilla is used in many local dishes in Kilimanjaro. Mbaazi wa Naz is made from pigeon peas cooked in coconut milk with a touch of vanilla. Kaimati is a sweet, fried doughnut-like snack that is dipped in a sugar syrup infused with vanilla. Pilau is a spiced rice dish that is typically made with meat or vegetables. Vanilla is added to the spices to give the dish a unique and delicious flavor.
The Vanilla Bean Rarity Index > Incredibly Rare
The Vanilla Bean Rare Index classifies beans according to their rarity based on location, farmer and vanilla bean type. These Planifolia Vanilla Beans from Kilimanjaro in Tanzania are extremely rare, grown from a few small growers in remote areas and have limited production per year. Hence, they are categorized as Incredibly Rare according to the Native Vanilla Rare Index.
Storage of Vanilla Beans
Vanilla beans should be stored in a cool, dark place in an airtight container, separate from other spices. They should be kept away from heat, moisture, light, or air.
Over time, vanilla will generally lose moisture as it evolves. If you follow the above advice, you will be sure to be able to keep your vanilla beans at their aromatic best for 12 to 18 months, so that your vanilla is still soft when you come to use it.
Planifolia vanilla bean farming in Kilimanjaro is an important aspect of the local economy and culture. The high-quality beans produced here are sought after by chefs and food manufacturers worldwide.
How to Make Vanilla Extract
For more information, check out our more detailed homemade extract guide
here: https://nativevanilla.com/blogs/recipes/how-to-make-vanilla-extract

Vanilla Extract Calculator
Calculate how much vanilla you need to make your extract.
https://nativevanilla.com/blogs/recipes/vanilla-extract-calculator
They smell amazing!
As soon as I opened the mailbox I knew what was there! I haven't opened them up yet but keep picking up the package just to smell them. Thanks!
Tanzanian, Kilimanjaro - Gourmet Vanilla Beans - Grade A
Yes
Brings back great memories of living in EA.
Beautiful
Beautiful juicy, smell good beans for my vanilla.
Great beans!
First time trying Tanzanian beans, they were moist, plump and smelled great. Native is good company to do business with!!