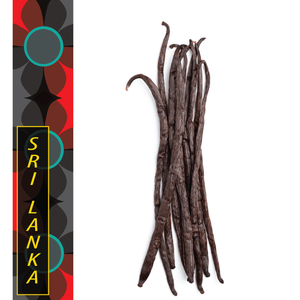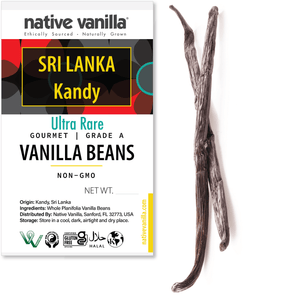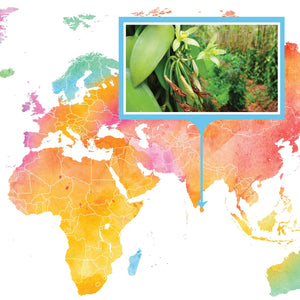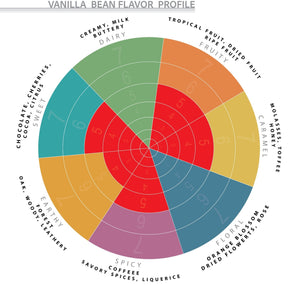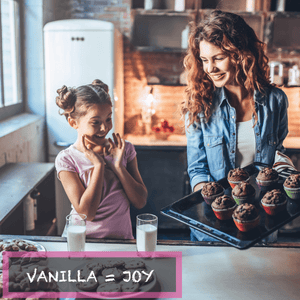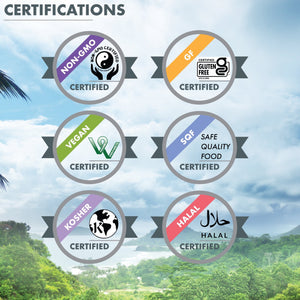 | | |
| --- | --- |
| Bean Origin: | Sri Lanka |
| Region: | Kandy |
| Rarity Index: | Ultra Rare |
| Bean Grade: | Gourmet - Grade A |
| Moisture Content: | 28-35% |
| Bean Size: | 5-7 inches | 13-18cm |
| Bean Family: | Vanilla Planifolia |
| Certifications: | Vegan, Gluten Free, Halal, Non-GMO ,Kosher |
Bean Flavor Profile
Tasting Notes:
earthy, sweet, spicy, fruity

 

Extract Taste:
bold, earthy vanilla, hints of dates & cocoa
Recommended Extract Spirit:
Vodka, Rums, Bourbons, Brandy
| | |
| --- | --- |
| Uses: | Extract Making, Baking, Cooking, Breweries, Cocktails |
| Pairing: | Ice cream, cakes, pastries, sauces, stews, vanilla extract and paste. |
Welcome to Kandy!
Ever heard of the Temple of the Tooth, or the Kandy Esala Perahera involving elephants? Well if this sounds inviting, then travel to Kandy, to see this UNESCO World Heritage site as well as the famous, annual festival involving a procession of dancers, musicians and elephants! Kandy offers visitors a unique blend of culture, history, and natural beauty. It even has its own traditional dance characterized by graceful movements and colorful costumes.
Kandy is also a vanilla-growing region, and its Planifolia Vanilla Bean is highly sought after by chefs and foodies around the world.
History of Vanilla Cultivation in Kandy
Vanilla is a comparatively new crop to be established in Sri Lanka where the Bourbon-Madagascar vanilla variety derived from the Vanilla Planifolia species is grown. The country offers favorable climate conditions where over 2000 farmers in Kandy, Matale, Nuwara Eliya, Kegalle, Ratnapura, Badulla and Galle are engaged in the cultivation of vanilla.
Sri Lankan vanilla farmers on average produce around 1.5 metric tons of hand cured vanilla beans which are consumed locally and exported. The locally grown vanilla has a gentler flavor and a smokiness compared to other vanilla varieties in the global market.
Sri Lankan vanilla exporters have also introduced products like vanilla-infused virgin coconut oil, vanilla tea, bee honey with natural vanilla and vanilla vinegar to the global market.
The Perfect Planifolia Bean from Kandy
The Planifolia Vanilla Bean grown in Kandy is a long, thin, and plump bean with a rich, dark brown color. The vanilla bean is known for its high moisture content of between 28% and 35%. The beans are around 13-18 cm, averaging around 15cm.
Divine Aromas and Flavoring
Sri Lanka Vanilla Beans are of the highest quality and have a rich, earthy chocolate and mocha aroma with subtle hints of dried fruits, teas, and dates.
Vanilla is not a commonly used ingredient in traditional Sri Lankan cuisine. While Sri Lanka is known for its rich and diverse culinary traditions, the use of vanilla in cooking is relatively limited. That said, there are some modern chefs and restaurants in Sri Lanka that have started to experiment with vanilla in their recipes, particularly in desserts and baked goods such as vanilla ice cream and vanilla cake.
Vanilla is a very versatile ingredient and widely used flavoring agent in the culinary world. It can enhance the taste of a wide variety of dishes and beverages such as cakes, cookies, desserts like crème brûlée as well as coffee, tea, and cocktails. It can flavor sweet sauces like caramel and butterscotch and is also commonly used in savory dishes such as marinades, sauces, and glazes for meats.
The Vanilla Bean Rarity Index
The Vanilla Bean Rare Index classifies beans according to their rarity based on location, farmer and vanilla bean type. These Planifolia Vanilla Beans from Kandy are grown in a remote region and are hard to find. They are therefore in limited supply. According to the Native Vanilla Rare Index they are classified as Ultra-Rare.
Storage of Vanilla Beans
Vanilla beans should be stored in a cool, dark place in an airtight container, separate from other spices. They should be kept away from heat, moisture, light, or air.
Over time, vanilla will generally lose moisture as it evolves. If you follow the above advice, you will be sure to be able to keep your vanilla beans at their aromatic best for 12 to 18 months, so that your vanilla is still soft when you come to use it.
In conclusion, Sri Lanka vanilla beans are frequently the choice of chef's for their rare complexity of flavors and applications.
How to Make Vanilla Extract
For more information, check out our more detailed homemade extract guide
here: https://nativevanilla.com/blogs/recipes/how-to-make-vanilla-extract

Vanilla Extract Calculator
Calculate how much vanilla you need to make your extract.
https://nativevanilla.com/blogs/recipes/vanilla-extract-calculator
Will buy again
This is my first time making vanilla extract. These beans smell so good, were plump and fresh. Can't wait for the extract to be ready to use!
Exactly what I wanted!
The vanilla beans are fresh and flavorful. We use them with vodka to make our own vanilla. So much better than store bought!
Good value
I bought this to make vanilla demerara syrup for old fashioned but also used it to make vanilla pastry cream, great quality and packaged well
Quality product
It was easy to split the bean because of the freshness. I purchased the package to make my own vanilla extract.